That Time Breaking Bad's Giancarlo Esposito Unintentionally Intimidated A Fan While Waiting In Line For The Bathroom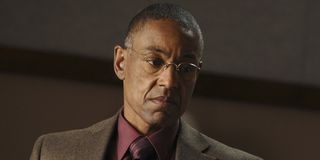 Television has given us a number of intimidating characters over the years, such as The Sopranos' Tony Soprano and The Shield's Vic Mackey. Breaking Bad alone has produced a number of tough guys, including Bryan Cranston's Walter While and Jonathan Banks' Mike Ehrmantraut. And of course, there's also the ruthless Gustavo Fring, played by the incomparable Giancarlo Esposito. When you play a role as well as Esposito has Gus, it's only natural that a few people may get the idea that the actor has the same personality as his character. But this led to an awkward situation, in which the actor unintentionally intimidated a fan while for the bathroom.
Anyone who's seen Breaking Bad or spinoff series Better Call Saul knows that when Gus Fring wants something, he gets it. So when one fan encountered Giancarlo Esposito waiting in line for the bathroom on an airplane, she responded in a pretty fitting way. While appearing at this weekend's GalaxyCon in Raleigh, North Carolina reflected (via WRAL) on the unexpected situation:
The lady hit the wall. She literally hit the wall for me. And I went, 'No you've been in line.' She said, 'You can go before me.' Guys, I was like, what's wrong with this lady? I thought she was like sick or having a heart attack or something. And I realized, oh my gosh, she thought I was the character (from Breaking Bad).
I think we can all agree that Giancarlo Esposito certainly has one of the most memorable (and unusual) fan encounters of any celebrity. One can only hope he was able to put the fan at ease, though. Having the lady be nervous around him is likely the last thing Giancarlo Esposito wanted.
Honestly, some may be able to understand why the fan reacted in that manner. Giancarlo Esposito is an incredibly talented performer, and he just so happens to take on a multitude of intense roles. He's currently still playing the role of Gus Fring on Better Call Saul, and he also plays the roles of Stan Edgar on Amazon's The Boys and Adam Clayton Powell Jr. on Godfather of Harlem. And then of course, there's also his fan-favorite role as the villainous Moff Gideon on The Mandalorian, which holds a particular amount of significance to Esposito.
Interestingly enough, there's a flip side to Giancarlo Esposito's fan encounters, too. The actor himself is actually a relatively laid back and personable individual, though he previously explained that this can actually disappoint some fans, who want to see him in his intense element. Well, more power to them for wanting to face the actor when he's in the villainous zone, because I'd honestly be pretty shaken to be in his presence when he's in villain mode.
There's no telling how fans will continue to react to Giancarlo Esposito, but it's a safe bet that no matter what comes his way, the actor will continue to be jovial when meeting his admirers. And it's just one of the many reasons why we love him so much.
To see Giancarlo Esposito in peak Gus Fring form, you can stream Breaking Bad and Better Call Saul on Netflix.
Covering superheroes, sci-fi, comedy, and almost anything else in film and TV. I eat more pizza than the Teenage Mutant Ninja Turtles.
Your Daily Blend of Entertainment News
Thank you for signing up to CinemaBlend. You will receive a verification email shortly.
There was a problem. Please refresh the page and try again.