Giancarlo Esposito: 10 Movie And TV Roles You May Have Forgotten About From The Mandalorian Star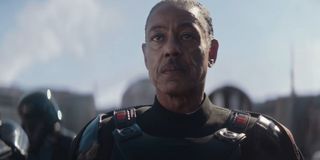 Think of a villain. Any villain. One of the best villains you can imagine. For me, I instantly think of Gus Fring, from Breaking Bad. A villain that is strangely likable, but viewers also know that if they screwed with him, it would be game over within a couple of minutes. And that is portrayed by the excellent Giancarlo Esposito.
Since the premiere of the first season of The Mandalorian, Giancarlo Esposito has been making rounds as Moff Gideon, one of the main overarching villains of the last two seasons. What he's also known for is, of course, portraying Gus Fring, a meth overlord who runs the business well, appearing in both Breaking Bad and Better Call Saul. He's truly an outstanding actor and deserves all the recognition he has been getting.
However, like many successful actors, fame wasn't instant for him, and that's what this list is for. These are some of the roles that Giancarlo Esposito had (or has) that fans may have forgotten about.
The Jungle Book (2016)
Sometimes with voice roles, it's hard to remember the actors who play them. When The Jungle Book came out, I admittedly didn't see it because I thought the very idea of a live-action Disney film was horrible (eating my words nearly five years later). However, what I didn't know was that Giancarlo actually played someone in it, the character of Akela, the leader of the wolf pack that the main character is connected to.
Giancarlo is what many might call a character actor, and in The Jungle Book, he practically becomes the role, embodies it, and even with voice-over roles, he does an incredible job with this as well. Hopefully, he comes back for the sequel.
Sesame Street
I know, I could hardly believe it either, but he was on Sesame Street, way back in 1982, before really anyone knew who he was. In the couple of episodes that he was in, Giancarlo Esposito portrayed Mickey, Big Bird's camp counselor. Keep in mind this was one of his first roles, so you can see a young man just starting out in the film industry.
In November 2020, Esposito actually posted on his Twitter to celebrate the 51st anniversary of Sesame Street, celebrating how long it has been around and thankful that he got to play a character on the show.
Waiting To Exhale
Waiting to Exhale is a romance movie released in 1995, starring big names like Angela Bassett and Whitney Houston, and was directed by Forest Whitaker. But did you know that Giancarlo made a very small and brief role in this popular romance movie?
He portrayed David Matthews, the ex-husband of Gloria (Loretta Devine's character) and a father to Tarik (Donald Faison), Gloria's son. In the scene, he rejects her advances and reveals to Gloria that he's gay in an uncomfortable but honest and heartbreaking scene in the film. However, because the role was so brief it was not included in the credits of the film. Talk about a "blink and you miss it" type of cameo, which usually means many might not remember that he had a role in it.
Ghost Whisperer
My mother was the biggest fan of Ghost Whisperer, and actually, on some re-watches of the series with her, I noticed that Giancarlo Esposito actually made an appearance on the popular show, only a couple of years before his breakout role on Breaking Bad.
The episode, titled "Fury," was in Season 1, stars Giancarlo Esposito as an African-American man who comes back from the dead to haunt the prosecutor who failed to convict his white attacker, nearly thirty years before. It's a heavy episode that focuses not only on the issues of spirits but race as well but considering it was so long ago in 2006, that sort of role is usually forgotten about.
Fun fact: Aaron Paul, Esposito's future co-star on Breaking Bad, guest-starred on this episode as well.
Bones
In the same year that he guest-starred on Ghost Whisperer, Giancarlo Esposito also picked up a role in Bones, the crime drama that focused on forensic anthropology and archeology.
In the episode he was in, titled "The Man in the Morgue," Esposito plays Richard Benoit, a man who runs a voodoo shop down in New Orleans, who helps Booth figure out what to do with the evidence that seems to be connected to the voodoo world. Another episode in a widely popular show. I wish he was on it for more.
There's more to the episode – however, I won't reveal too much, as Esposito was killer in this one as well.
Law And Order
I swear, every single actor or actress has had a role on Law and Order at some point in their career, and Giancarlo is no exception to this. In fact, he had two roles in the series. In first his role, he played Mr. Baylor in a 1996 episode. He returned in 2004 when he portrayed Rodney Fallon, a defense attorney who is working on the New York Exoneration Project, a special program that specializes in assisting people suspected of being wrongfully convicted of crimes.
Honestly, this project sounds like something that is needed in the real world. It's a shame he's just portraying a character in this – but he does a fantastic job doing so, if only for a couple of episodes.
Trading Places
A classic comedy film staring not only Dan Aykroyd but the comedy legend, Eddie Murphy. Everyone who knows comedy has heard of, if not seen this movie due to how famous it is, but what fans of Giancarlo Esposito might not know is that he also had a minor role in Trading Places, which was again one of his first roles ever, but very hidden in the scene.
He played a cellmate in the movie when Eddie Murphy's character was in jail. If you look at the picture you can see how much younger he was. A bit different from the Moff Gideon everyone knows him as now.
The Usual Suspects
The Usual Suspects took to screens back in 1995, following the story of the interrogation of Roger Kint, more commonly known as "Verbal," who is one of the only survivors of a massacre and a fire on a ship that was docked in the Port of Los Angeles.
From that, we get the story of events, from his own mind. Giancarlo Esposito portrays FBI Agent Jack Baer, a man that is on the case. While he isn't one of the starring roles (with the likes of big-time stars at the time like Kevin Spacey and Stephen Baldwin), it's one of the bigger roles later on in his career that leads him to become the actor that he is now.
The Boys
While I know that fans of the comics most likely haven't forgotten, Esposito's role in the superhero show, The Boys, is small but powerful. In the show, Giancarlo portrays Stan Edgar, the CEO of Vought American that handles all of the superheroes.
While he was only in The Boys for five episodes (so far), he rules with an iron fist, hiring people without any of the super's consent because honestly, he doesn't have to, because he is the CEO, and what he says goes. He's not afraid of Homelander, or anyone else.
Watching him in this calls back really to his role as Gus Fring, showing how even though someone can be cool and contemplative, they can also be terrifying, and that's exactly how Stan is in The Boys. I just wish his character had more screen time. He's so good, but because he doesn't appear that often, viewers will most likely forget about him until he shows up again.
Community
Community was my quarantine show, and I loved every single second of it, but what I hadn't known was that Giancarlo Esposito actually has a minor role in two episodes of the show, Gilbert Lawson. It's hard to imagine this serious actor taking a role in a ridiculous show like Community, but he does an excellent job.
He was Pierce's father's assistant for 30 years, but his backstory is just outstandingly funny that I'm not even going to get into it here. If readers are fans of Community and Giancarlo Esposito, it's worth going back to watch this episode. Just ridiculously comedic. The two episodes ("Digital Estate Plannng," "Paranormal Parentage") he is in are so stupidly funny but in a show like Community, they can get lost in the cycle of chaos it is. If a movie is made, I hope he makes a guest appearance.
While it's unknown now how long Giancarlo Esposito will be in The Mandalorian after the season finale of the second season, fans of his work still have many TV roles and movies to look back on, some of which I didn't even put in this list. What's your favorite role?
Your Daily Blend of Entertainment News
Big nerd and lover of Game of Thrones/A Song of Ice and Fire. Will forever hate season eight. Superhero and horror geek. And please don't debate me on The Last of Us 2, it was amazing!
Your Daily Blend of Entertainment News
Thank you for signing up to CinemaBlend. You will receive a verification email shortly.
There was a problem. Please refresh the page and try again.