The Bachelorette's Katie Thurston Definitely Got A Unique Sex Toy From Contestant's Mom, And She Shared It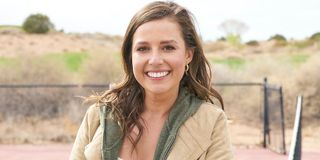 (Image credit: ABC Press)
Spoiler alert! The following story contains a big hint to who Katie Thurston possibly ends up with at the end of The Bachelorette Season 17. Read further at your own risk.
Sex-positive Bachelorette Katie Thurston is nearing the end of her quest for love on The Bachelorette's latest season, and after the Hometown dates turned into an emotional breakdown, fans were left to wonder if she'd actually find her perfect partner at the end of the season — and how that could even be possible after she felt so defeated by Greg Grippo's shocking exit. But if Thurston's social media is any indication, she might just get the happy ending she's been looking for - bad pun very much intended - with a specifically designed dildo hinting heavily at who she chooses.
Katie Thurston shared a photo on social media of a truly unique gift — a dildo covered in Canadian flag imagery — that she apparently received from her love interest's mother. Check out the hilarious (if not a bit disturbing) gift below.
Okay, bypassing the fact that this might be a really weird gift to get from your lover's mother in any situational circumstances, the post doesn't reveal who the gift it from, just saying "his mom." But the maple leaves on the sex toy are pretty telling, as they point to just one of Katie Thurston's remaining two hopefuls — Blake Moynes, the wildlife manager from Ontario, Canada.
Katie Thurston seemed to hit it off with Blake Moynes' family during their hometown date. After scoring a goal during a pickup game of street hockey, Thurston yelled, "Welcome to America!" So maybe this is the Moynes family's way of saying, "Welcome to Canada," and I can get behind that kind of family banter. I also love that she apparently gussied herself up in church clothes before receiving the provocative gift. After Thurston had to relive her big blowout with Greg Grippo, maybe this was precisely the kind of stress relief she needed? Assuming that it wasn't just a sly way of Blake's mom telling Thurston to find something to fool around with other than her son.
It's a logically conceived present, too, since Katie Thurston made a splash into Bachelor Nation when she arrived for Matt James' season of The Bachelor with her vibrator in hand. But while Thurston has been vocally supportive of sexuality and self-love, she threw a curveball to the guys on her season by asking them to abstain from masturbation for a week. She called it the "WOWO" challenge, and that request received a limp and lukewarm reception, both from the contestants and the viewing audience.
Only two men remain in The Bachelorette's Season 17, which is heading into its big finale episode with Blake Moynes and Justin Glaze. ABC has blocked off a whopping three hours for what will undoubtedly be the most dramatic finale we've ever seen (or at least that's how it will be sold to us). Even though Katie Thurston's post seems to point to Moynes being the recipient of the final rose, there's always the chance she's trying to throw viewers off, since that would be a huge spoiler reveal on her part by sharing in the first place. Either way, I'm interested to see exactly how she recovers from her latest heartbreak to even make it to the end.
The Bachelorette Season 17 finale will air at 8 p.m. ET August 9 on ABC, with Bachelor in Paradise returning for Season 7 at 8 p.m. ET August 16. Check out our 2021 Summer TV schedule to keep up to date with all of your favorite shows.
Mom of two and hard-core '90s kid. Unprovoked, will quote Friends in any situation. Can usually be found rewatching The West Wing instead of doing anything productive.
Your Daily Blend of Entertainment News
Thank you for signing up to CinemaBlend. You will receive a verification email shortly.
There was a problem. Please refresh the page and try again.