NBC's The Ultimate Slip N' Slide Finally Cancelled For Good After Diarrhea Outbreak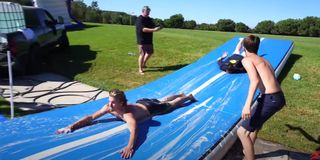 (Image credit: Wham-O)
It looks like the proverbial and literal shit has really hit the fan this time. Earlier this summer, NBC was in the midst of turning the classic water toy slip n' slide into a competition series in the vein of American Ninja Warrior, called The Ultimate Slip N' Slide. But it collapsed into a full-out diarrhea outbreak amongst the crew members, prompting production to grind to a halt. Apparently, though, neither time nor a good bottle of Pepto Bismol could help rectify the situation because NBC just canceled the show for good.
NBC confirmed to Deadline that it was not going to pick up production again for The Ultimate Slip N' Slide after its diarrhea outbreak and subsequent shutdown. Sources noted that the logistics and costs involved were, apparently, too ghastly to consider finishing the project. So Ultimate Slip N' Slide, and whatever footage it did get, just slid down the tube to the graveyard of cancelled shows that never saw the light of day.
The particulars of the diarrhea outbreak in question did indeed sound ghastly. It was reported at the time that close to 40 crew members were collapsing from it on set. At least one person tested positive from giardia, a parasitic intestinal infection. The set itself – which included a 65-foot-tall slide as part of the competition – tested negative for parasitic contamination, but the "surrounding area," in fact, did.
Still, I'm a bit unsure about Ultimate Slip N' Slide's total cancellation. When the news first broke of explosive diarrhea overtaking the show's crew, it was also reported that it only had five days of scheduled shooting left. So I honestly think it's likely the network potentially chafed at the idea of the show being self-marketed as the explosive diarrhea competition, rather than it being truly unwilling to shuck out five more days of production. (Do we blame them?) Nevertheless, perhaps if the original crew had still not recovered or was unwilling to continue, then that likely did throw a monkey wrench in NBC's plans.
The Ultimate Slip N' Slide, though, was originally slated for a bountiful premiere, just after the close of the Tokyo Olympics tomorrow night. But at the beginning of July, NBC decided to pull the show from its premiere in the summer schedule. Family Game Night has since taken its place – hopefully sans diarrhea.
It's a bummer because I was looking forward to all my wildest kid dreams coming true in the form of a NBC competition series. Ultimate Slip N' Slide sounded like middle school field day meets summer vacation - but for adults. Actors Bobby Moynihan and Ron Funches were tackling hosting duties while contestants competed in the likes of human pong, body bowling, and cornhole for cash prizes. The final teams were dared to even take on "the Big Slipper."
Suffice to say, no Big Slipper is (or ever will be) worth the Big Shitter, also affectionally known as parasitic worms. So Ultimate Slip N' Slide's cancellation is probably for the best. But we still love a good pooping drama...
I am a vegan feminist. I'm fascinated by all things space/stars. I love film history, reality television, and my cat Bubbe.
Your Daily Blend of Entertainment News
Thank you for signing up to CinemaBlend. You will receive a verification email shortly.
There was a problem. Please refresh the page and try again.