Below Deck: Mediterranean Cast Did A Full Remix To Sir-Mix-A-Lot's 'Baby Got Back' And Now I Like Big Boats Too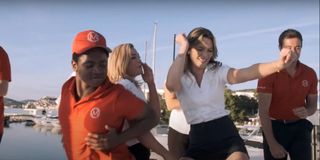 (Image credit: Peacock)
When it comes to the Below Deck franchise, the crews are apt to deliver the drama in spades. People have been fired, people have quit, the guests have outrageous demands, and the list goes on and on. But ahead of Season 6, the Below Deck: Mediterranean cast is delivering some other goods as well. Namely, a full remix to Sir-Mix-A-Lot's "Baby Got Back." It's called "I Like Big Boats," and I must say, I like them, too.
Sir-Mix-A-Lot's "Baby Got Back" is indeed a timeless classic. But who knew that words like "yachties," "fender down the rim," and "springline throw" could just as easily be used as substitute lyrics? In honor of their return to Bravo, see the Below Deck: Mediterranean's cast rendition of the remix below:
The cast's hilarious play on Sir-Mix-A-Lot's "Baby Got Back" certainly did its job, which was to get us Bravo fans excited about Below Deck: Mediterranean. Even more exciting is that the remix video promises early access to the Season 6 premiere on Peacock on June 21, ahead of the Bravo premiere on June 28.
The official Season 6 trailer for Below Deck: Mediterranean is out, too, along with the "I Like Big Boats" "music video." And like the Sir-Mix-A-Lot remix, it doesn't disappoint. Apparently, only alums Malia White and Captain Sandy have returned, with the rest of the cast being newbies to the franchise. The trailer hints at fights, hookups, and Captain Sandy being taught to twerk – so my butt's already in a seat.
After a pretty tumultuous Season 5, Bravo fans were already greatly anticipating this next iteration of Below Deck: Mediterranean. Last year, veteran stewardess Hannah Ferrier was fired by Captain Sandy for having weed and valium onboard. Ferrier, now a mother, has said her yachtie days are done, but that doesn't mean the bad blood between her and Captain Sandy is. As for the new chief stewardess of the show, Katie Flood, she seems to be a far cry from Ferrier's entertainingly blunt, cold opinions.
In the interim for the next season of Below Deck: Mediterranean, we've been living off the current sophomore season of Below Deck Sailing Yacht, which is still airing on Bravo. That show replaced almost its entire cast for this season, too, and it's seemed to pay off rather nicely. Fans and franchise alums alike have been flabbergasted by the amount of storyline happening. From an epic boat crash to throuple drama, it has definitely managed to stand out from recent seasons of the franchise. Given the news of castmate Dani Soares' first baby being born, I suspect the reunion will be equally as juicy.
There's one episode left of Below Deck Sailing Yacht, so the drama is coming to an end. But as the Sir-Mix-A-Lot remix taught us, at least Below Deck: Mediterranean is back.
Freelance writer. Favs: film history, reality TV, astronomy, French fries.
Your Daily Blend of Entertainment News
Thank you for signing up to CinemaBlend. You will receive a verification email shortly.
There was a problem. Please refresh the page and try again.