Below Deck: Mediterranean's Lloyd Spencer Reacts To Heartwarming Response After Coming Out On The Show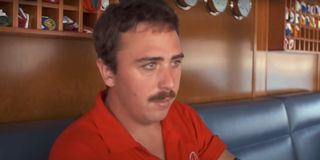 (Image credit: Bravo)
The drama comes fast and furious on Below Deck: Mediterranean – and we love it. But sometimes it's easy to forget that the reality show about yachty crews offers glimpses into real human emotions and stories. Such was the case in the most recent episode of Season 6, when Lloyd Spencer came out as sexually fluid to his crew and, by proxy, the world. Well, the world had a pretty heartwarming response to the deckhand's revelation and he's reacting to it with just as much appreciation.
Lloyd Spencer's coming out moment on Below Deck: Mediterranean was filled with a lot of tears, as he heartbreakingly shared his experience with homophobia in the yachting industry previously. But the crew quickly rallied to his side. On Twitter, fans also had a lot of positive responses, saying that he was "brave" and to "keep being you" and that it was a "powerful" moment for TV. In an interview with E! Online, Spencer reacted to the outpouring of love:
The beautiful moment on Below Deck: Mediterranean came only an episode after Lexi Wilson's huge blow-up with the crew. In a drunken tirade, Wilson said inappropriate things to Lloyd Spencer and got physical with him, as well as with others. But it was Spencer's later coming out reveal that put the incident into more context for how problematic it actually was. Supposedly, too, Wilson has yet to give a real apology to all of the cast concerning her behavior.
However, while reflecting on the latest episode, Lloyd Spencer shared that his coming out moment on Below Deck: Mediterranean didn't fully encapsulate all of his experiences. At the time, he said he was "90 percent straight," but really, he says it's more like an ever-moving scale:
It is refreshing to see someone share experiences that fall outside of the traditional heteronormative standards that are typical on the Below Deck franchise. Lloyd Spencer's vulnerability on his sexuality, coupled with his crew and fans very supportive backing, shows that the world is making baby steps into being a more inclusive environment.
I am a vegan feminist. I'm fascinated by all things space/stars. I love film history, reality television, and my cat Bubbe.
Your Daily Blend of Entertainment News
Thank you for signing up to CinemaBlend. You will receive a verification email shortly.
There was a problem. Please refresh the page and try again.