Kaley Cuoco's Harley Quinn Had A 'What If?' Marvel Joke That Was Way More Successful Than Doom Patrol's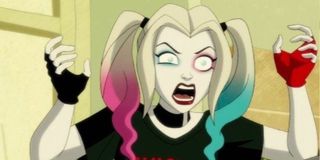 Marvel's What If...? debuted as Disney+'s first animated MCU series, and while many fans were delighted by the new takes on familiar characters, some DC series seized the opportunity to take some shots. Doom Patrol got in on the fun on social media, but it was Kaley Cuoco's Harley Quinn that delivered the most successful joke, and it was especially funny for those who were aware of the storm of Harley Quinn controversy earlier in 2021.
Following the release of the first episode of Marvel and Disney+'s What If…?, some of the DC shows took to Twitter to ponder their own "What if?" scenarios, using the official hashtag. Doom Patrol took the opportunity to take a jab at its comic book competition by wondering what would happen if the movies weren't so "campy." Meanwhile, Harley Quinn decided to go in a different and much more suggestive direction:
Considering the cat emoji usage at the end of the sentence, it's not hard to figure out that Harley Quinn is most definitely referencing the cut scene between Batman and Catwoman that would have involved oral sex between the two heroes. Doom Patrol's tweet sparked many negative comments, with fans coming to Marvel's defense and shutting down the show's comments. Meanwhile, fans couldn't get enough of the Harley Quinn joke. Though the show followed with another tweet about another possible meaning behind the message:
Now, the Harley Quinn account definitely meant the sexual interaction between Batman and Catwoman with the original tweet, so it's hilarious to see the account "attempt" to cover up the tracks by playing it off as Batman not leaving Gotham. Doom Patrol's tweet gained traction more for negative responses than anything else. To contrast, Harley Quinn did a great thing by using the Marvel What If…? hashtag and nodding back in a way that is hilarious for those in the know about the oral sex debate and innocuous for any who don't.
Both Marvel and DC have been known to make references about the other, so it's not quite so surprising that some of the DC series would use a Marvel hashtag on Twitter. It is pretty bold for one of them to indirectly jab the competing studio like what Doom Patrol did, but at least Harley Quinn can keep us entertained and away from the studio drama.
If you can't get enough of Harley Quinn's sass, whether it's from the show itself or the character, Season 3 is currently in production, with a date to premiere on HBO Max sometime later this year. In the meantime, you can check out our fall 2021 TV schedule to see what other shows to look forward to!
Passionate writer. Obsessed with anything and everything entertainment, specifically movies and television. Can get easily attached to fictional characters.
Your Daily Blend of Entertainment News
Thank you for signing up to CinemaBlend. You will receive a verification email shortly.
There was a problem. Please refresh the page and try again.