Harley Quinn Producer Talks Potential Season 3 Renewal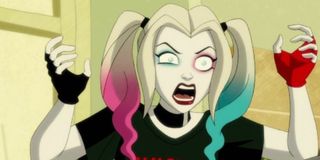 Harley Quinn has had a very busy year. The animated series wrapped its second season on DC Universe in June and, starting August 1, is officially streaming on HBO Max. While Harley Quinn has been well-received by fans and critics alike, the animated series has not yet been renewed for Season 3. However, series producer Dean Lorey recently gave an update about a potential renewal.
Harley Quinn Season 2 actually didn't end on a cliffhanger. Rather, it wrapped up several storylines quite nicely and even gave Harley a happy ending. But, that doesn't mean that the show should end there. There are plenty of Harley and Poison Ivy storylines to do and villains' plans to thwart. Over on Twitter, Spartacus creator Steven DeKnight (after showering the animated series with praise) asked Dean Lorey if there would be another season. Here's what Lorey said:
For some background, Dean Lorey was referring to fellow Harley Quinn co-creators Justin Halpern and Patrick Schumacker in his response. I'm happy to learn that Dean Lorey had "one of the best experiences" making the show. Many viewers (myself included) had the best experience watching it. The series' take on Bane is especially memorable and fun.
However, it sure sounds like the final decision for a potential third season is in the hands of HBO Max execs. I'd like to think that the head of HBO Max would want to keep Harley Quinn around for some more action. The streamer did pick up the show from DC Universe and that, to me, said a lot about how confident the folks at HBO Max were in the R-rated animated series.
What's more, Patrick Schumacker seemed hopeful that HBO Max would renew Harley Quinn for Season 3. After it was announced that the first two seasons of the animated series were being released on Blu-ray, Schumacker took the wording on the cover to be good news. Take a look at his tweet below.
Now I'm really hopeful about a potential Harley Quinn renewal as well! Granted, it might be a while until we hear any news about the show one way or the other. WarnerMedia, HBO Max's parent company, is currently undergoing a lot of changes, which include layoffs at DC Universe and other company divisions.
Stay tuned to CinemaBlend for updates on Harley Quinn and its potential third season. In the meantime, you can watch both seasons of the series on DC Universe and HBO Max. For more on what to watch in the coming months, be sure to check out our 2020 fall TV premiere schedule.
Your Daily Blend of Entertainment News
Thank you for signing up to CinemaBlend. You will receive a verification email shortly.
There was a problem. Please refresh the page and try again.