Harley Quinn TV Show Creators Reveal Classic Sitcom Inspiration For Kaley Cuoco's Character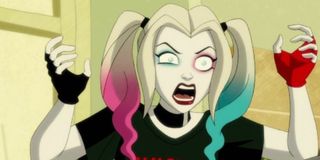 Harley Quinn was finally renewed for Season 3 recently, and it will air exclusively on HBO Max, effectively bidding farewell to DC Universe as its former home. The animated series offers a slightly different take on the popular character, whose misadventures lead her and Poison Ivy into some thorny situations. In terms of what inspired such characters and situations, Harley Quinn co-creators Justin Halpern and Patrick Schumacker recently dished on the classic sitcom inspiration behind Kaley Cuoco's character.
Harley Quinn has had a long history since her fan-embraced debut in Batman: The Animated Series, and she's since appeared in DC's comic books, animated movies, and films like The Suicide Squad and Birds of Prey (played both times by Margot Robbie). When it came to the TV take on Harley Quinn, however, Justin Halpern and Patrick Schumacker approached the concept a bit differently. Even knowing that Warner Bros. wanted an R-rated show, the co-creators looked to classic TV sitcoms when pitching the series. Here's what Halpern told Deadline:
Among the sitcoms that Justin Halpern and Patrick Schumacker have worked on together include the short-lived NBC series Powerless, Surviving Jack, and Sh*t My Dad Says. I'd wager that working on Harley Quinn was probably the most creatively freeing experience for the creators, and they were certainly able to come up with some clever and surprising stories that I personally haven't seen done on other DCTV shows. I mean, if you're going to honor a classic series as inspiration, you might as well shoot for the top, where The Mary Tyler Moore Show has made itself at home.
Patrick Schumacker added that Harley Quinn performed so well that the writing duo has started to "develop other animated pitches" for Warner Bros. If these potential animated series turn out to be anything like Harley Quinn (in both raunchiness and creative storytelling avenues), then I'm all for it. Especially if they can find a way to base it on some other classic sitcoms. Get Smart, perhaps? I Dream of Jeannie?
What's also been pretty cool for Harley Quinn's creators is seeing how the series has impacted viewers. There's a lot of love out there for the show and Justin Halpern thinks it's great to see fans talking about it so often. Halpern compared Harley Quinn's mark on the world of TV to that of The Simpsons. In his words:
I agree, Harley Quinn certainly does resonate in many ways, from its central female-driven relationship to the plethora of hilarious side characters, and I think it speaks to the creators' shared drive to do something special with these beloved comic book characters. Getting Harley and Poison Ivy together is a huge bonus, in my opinion. Luckily for all involved, the animated series will get to work its magic once more in Season 3.
Harley Quinn Season 3 does not yet have a premiere date, but stay tuned to CinemaBlend for updates. In the meantime, be sure to check out our 2020 fall TV guide for more options on what to watch.
Your Daily Blend of Entertainment News
Your Daily Blend of Entertainment News
Thank you for signing up to CinemaBlend. You will receive a verification email shortly.
There was a problem. Please refresh the page and try again.