What Kaley Cuoco Loves About Playing Harley Quinn For DC Universe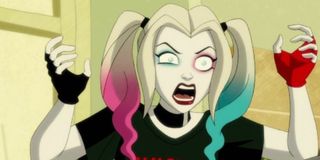 It's the era of DC Comics' Harley Quinn! From Margot Robbie's portrayal in Birds of Prey to DC Universe's animated Harley Quinn series, the famous villainess is getting her due across a variety of mediums. A lot of what makes Harley Quinn's portrayal in the animated series stand out is how R-rated it is, but a big part of what The Big Bang Theory's Kaley Cuoco loved about playing Harley Quinn was what she represented for women.
While she's become one of the most recognizable characters in DC Comics lore, Harley Quinn isn't necessarily a traditional icon. In fact, it's perhaps that lack of prestige that Kaley Cuoco sees her as such an empowering representative for feminism. Though she'd expressed that voicing Harley Quinn was harder than her other work, Cuoco explained to EW exactly why she fell in love with playing the hyper-violent hellraiser for DC Universe. Here's what she said:
These are all valid points, because women are never one-dimensional, regardless of whether they're villains or superheroes or extras. Harley Quinn gets to embody all of Kaley Cuoco's aforementioned characteristics and more without restraint, so it's clear why the actress adores playing the character so much. Personally, I think the series pulled off its execution quite well, with a host of familiar DC characters, off-the-wall storylines and creatively crafted expletives thrown every which way as an added bonus.
Kaley Cuoco, who played Penny for 12 seasons of The Big Bang Theory, has been pumped for Harley Quinn for a long time. She even wanted to re-record early episodes of the animated series after she'd later perfected her Harley Quinn voice, so the series and character clearly mean a lot to her. With work already being done Season 2, Cuoco says that she's up for playing Harley for a "long time." And thankfully animated shows can't injure crew the way live-action movies can.
Harley Quinn Season 1 is currently available to stream on DC Universe. Season 2 is set to premiere on the streaming service in April with another 13-episode order. For more on what to watch, be sure to check out our 2020 midseason schedule for updated premiere dates and times.
Your Daily Blend of Entertainment News
Thank you for signing up to CinemaBlend. You will receive a verification email shortly.
There was a problem. Please refresh the page and try again.