Disney+'s Lando: 7 Questions We Have About The Star Wars TV Show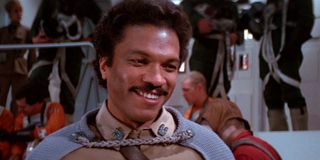 CinemaBlend participates in affiliate programs with various companies. We may earn a commission when you click on or make purchases via links.
As Star Wars continues to expand, so does its presence on Disney+. The streamer is primed to become the home of the storied franchise's TV content for years to come, which is an exciting prospect. And, like Marvel Studios, Lucasfilm is using this opportunity to highlight fan-favorite characters by giving them their own projects. This includes the shady and smooth Lando Calrissian, who's getting his own self-titled show. Yes, the Lando TV show should be a sweet addition to the lore, but, at this point, we still have plenty of questions about it.
Lando was originally announced late last year during the Lucasfilm portion of Disney's Investor Day livestream. So far, all we know is that the project has been set as an event series, with Dear White People creator Justin Simien crafting the story. There are a number of possible directions the series can go, and this spurs a number of key questions. Now, let's take a look at those queries we have about Lando's solo TV show:
What Is Lando's Disney+ Premiere Date?
As previously mentioned, the Star Wars franchise has a number of new Disney+ shows arriving within the next few years, and many don't have official release dates as of yet. So, it's hard to pinpoint when Lando might see the light of day. One thing that appears likely, though, is that it won't be showing up on the streaming platform this year. A 2022 release date also seems unlikely, given that the show hasn't even started shooting yet. With so little information on the show at this time, one can assume Lando is still in the early stages of development. But, who knows, maybe we'll at least get a rough release date at Disney+ Day this November.
When Will Lando Officially Start Filming?
There are upcoming Star Wars movies and TV shows in various stages of production at the moment. On the TV side of things, Andor is shooting in the UK as of August 2021, while Obi-Wan Kenobi has been shooting in Los Angeles. Additionally, The Mandalorian is set to begin production on Season 3 relatively soon. Seeing as Lando hasn't even announced cast members yet, there's a chance that there's still a ways to go before the cameras start rolling. If we're thinking optimistically, the show could begin production sometime in 2022, which (factoring in the amount of time needed on a project of this scale) would put it on track to release in 2023.
How Many Episodes Will The Series Have?
It's only natural for us to wonder how many installments we can expect in Lando Calrissian's upcoming show. As an event series, it's likely that Lando won't have a large number of episodes. Fellow event series Obi-Wan Kenobi is set to have six episodes, so that seems like a logical number for Lando. However, it's also possible that it could run a little longer, like The Mandalorian. In its first two seasons, that show has aired eight-episode seasons and is likely to continue that trend. But regardless of which way Lando skews, it's fair to expect the episode total to be nice and tight.
How Does Lando Fit Into The Star Wars Timeline?
The Star Wars timeline is vast, yet the folks at Lucasfilm have mostly managed to keep things organized. So far, the TV shows have been placed in very specific pockets of time. The Mandalorian takes place five years after Return of the Jedi, and Obi-Wan Kenobi picks up 10 years after Revenge of the Sith and a decade ahead of A New Hope. Because Lando Calrissian has such a rich history in the franchise, the producers have options when it comes to the show's place in the timeline. It could focus on a younger Lando or (and this is probably unlikely) an older version of the character. And, this brings us to our next question.
Who Will Play Lando Calrissian On The Disney+ Show?
At this point, Lando has been played by two actors in live-action Star Wars projects. The great Billy Dee Williams originated the role back in The Empire Strikes Back and most recently reprised it in 2019's The Rise of Skywalker. But, ahead of his return, Donald Glover played a younger version of the scoundrel in 2018's Solo: A Star Wars Story. While either actor would be a perfect lead, it's more likely that Glover would be the prime candidate. Even before the series was officially announced, rumors emerged last year, and they alleged that the Atlanta star would reprise his role in a Disney+ show. Glover certainly feels like a shoo-in but, then again, we've been surprised before.
Will Other Major Star Wars Characters Make Appearances?
It's definitely not uncommon for familiar Star Wars characters to show up in new projects. The Mandalorian Season 2 alone is sheer evidence of that, as it featured the likes of Boba Fett, Bo-Katan Kryze and Ahsoka Tano. Even Obi-Wan Kenobi will see Hayden Christensen return as Darth Vader. Lando's timeframe would dictate which veteran characters would return. Should the series go with Donald Glover's younger iteration of the character, it could feature characters seen in Solo. Alden Ehrenreich's Han Solo and Chewbaca would be prime candidates, or even Emilia Clarke's Qi'ra.
Will Lando Have Multiple Directors Like The Mandalorian?
Justin Simien may be scripting Lando, but he's also an accomplished director, as evidenced by his work on Dear White People. So, he may also be helming episodes as well and, if Lucasfilm is approaching Lando like it is Obi-Wan Kenobi, he could be the only director. However, there's also the possibility that the studio opts to bring in several directors, as it has with The Mandalorian. It would, honestly, be great to see a variety of filmmakers join the project. And, with Calrissian being an African-American character, it would really be nice to see some directors of color sign on, if Lucasfilm is indeed looking to hire multiple creatives.
Despite the fact that very little is known about Lando at this point, the mere idea of the character getting his own show is enough to get one excited. We'll be waiting (im)patiently to hear more on this Star Wars show.
Covering superheroes, sci-fi, comedy, and almost anything else in film and TV. I eat more pizza than the Teenage Mutant Ninja Turtles.
Your Daily Blend of Entertainment News
Thank you for signing up to CinemaBlend. You will receive a verification email shortly.
There was a problem. Please refresh the page and try again.