5 Rogue One Characters That Should Get Disney+ Spinoffs After Star Wars' Cassian Andor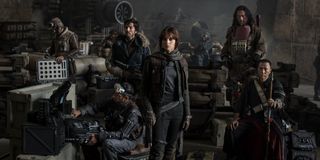 After over 40 years, Star Wars continues to thrive but, these days, it's not dazzling audiences through its big-screen ventures quite as often. Right now, the storied franchise is holding our attention through its small-screen, live-action content. While The Mandalorian is holding down the fort at the moment, it'll soon be joined by a host of other shows, including the Andor TV show on Disney+. The series will see the return of Diego Luna's Cassian Andor, who was first introduced in Star Wars: Rogue One. The rebel spy is more than deserving of his own series, but one could argue that there are other characters from the 2016 film that deserve the same treatment.
Andor is a prequel series that will focus on the title character's adventures before the events of Rogue One: A Star Wars Story, in which he bravely sacrificed himself alongside his comrades. One of the best things about Gareth Edwards' film is that it included an eclectic cast of characters, with many possessing their own unique backstories. With this, Lucasfilm and Disney+ may want to consider reviving a few for their own TV spinoffs. So let's take a look at some of the familiar faces that could follow in Cassian Andor's footsteps and headline their own shows:
Jyn Erso
This is a pretty obvious one, but most would probably agree that Jyn Erso is a prime character to lead her own spinoff series. Played by the wonderful Felicity Jones, Jyn was orphaned at a young age and eventually became a child soldier and later a criminal. It was that latter life that would unintentionally get her on the radar of the Rebel Alliance, who she would ultimately aid in stealing the plans for the Death Star. Although Erso was the film's main protagonist, there's still much more to explore within her history.
Jyn's checkered past is what makes her a strong candidate for a TV series, and seeing her years as an outlaw would be particularly interesting. Given her history, there's no telling what kind things she saw or what kind of people she came into contact with in her time. Of course, there's also the fact that Felicity Jones is great in the role, and it would be nice to have her back. And it just so happens that the Oscar-nominated actress would love to revive the character and wants to try some daring new things with Jyn as well. I, for one, am hoping she gets the chance to jump back into the galaxy far, far away.
Saw Gerrera
The Star Wars movies and TV shows have introduced an assortment of interesting characters over the years, but few have had as complex a journey as Saw Gerrera. Fans first met Saw in the animated series Star Wars: The Clone Wars, in which he's introduced as a young freedom fighter from Onderon. But by the time Forest Whitaker played the live-action iteration in Rogue One, he'd become an aged man leading a radicalized rebel group, which even includes child soldiers. Since then, the character has popped up in a number of places and is even set to appear on Andor.
Saw Gerrera is a Star Wars character that operates in a gray area, not unlike a Boba Fett. We can't completely classify him as a villain, but he's certainly not a total hero. In terms of a Disney+ show, it would be great to see Forest Whitaker return in a prequel that chronicles Gerrera's evolution from noble revolutionary to callous radical. As a fan of Breaking Bad and Better Call Saul, I'd absolutely love to see this kind of series in the Star Wars universe, and Whitaker definitely has the acting chops to pull it off.
Orson Krennic
Now, to some, this may seem like an unexpected choice, but I would absolutely watch a series centered on Rogue One's main antagonist. Sure, he's another Imperial suit, albeit with a nice cape. Yes, he is smug and incredibly ruthless. We also can't forget the fact that he was totally owned by Darth Vader when going to meet with the dark lord. Still, the idea of seeing more of the delightful Ben Mendelsohn being smug and ruthless and wearing a cape honestly sounds like fun.
In the grand scheme of things, Krennic plays an important role in the history of Star Wars, seeing as how he spearheaded the Death Star project. An ongoing series with the character may honestly be a bit much, but a limited series or even a special showing key aspects of his Death Star efforts leading up to Rogue One could be intriguing. The series could even dive deeper into his relationship with Mads Mikkelsen's Galen Erso. Of course, this would all depend on whether Ben Mendelson would be willing to return and, if so, the actor would likely make the most his time in the spotlight.
Baze Malbus
Baze Malbus was another one of the characters introduced to the Star Wars universe through Rogue One. Jiang Wen's gruff soldier was established as a former member of the Guardian of the Whills, a religious Force-based group, before he set off on his own as a freelance assassin. The character ultimately proved to be entertaining, but he unfortunately didn't get too much time to shine. Luckily though, his intriguing backstory serves as prime fodder for a spinoff series.
While Baze Malbus was definitely the skeptic of the Rogue One group, his keen skills with a blaster and his intense loyalty to his allies endeared him to audiences. A prequel series could go one or two ways with Baze. On the one hand, you could focus on his time as a guardian though, in his case, it might be a bit more interesting to see him working as an assassin. Regardless, Jiang Wen deserves an opportunity to do more with Baze. Plus, his spinoff could even be a two-hander with his longtime ally, another character who could absolutely lead his own show.
Chirrut Îmwe
If a spinoff centered on the Guardians of the Whills were to be produced, then it would absolutely need to feature Donnie Yen's Chirrut Îmwe. The blind spiritual leader, who was based on Jedha City, proved to be a keen warrior, but it was his calm demeanor and fierce commitment to the Force (despite not having abilities) that made him a compelling figure. Like longtime companion Baze Malbus and other Rogue One characters, Chirrut didn't get enough screen time, so why not give him his own prequel?
The Guardians of the Whills have yet to truly be explored in the live-action realm of Star Wars, and a spinoff that explores Chirrut's time with the order would be interesting. And as mentioned, such a project could also see Baze Malbus as co-lead. It's a solid concept and one that's especially exciting when you consider that it would bring the great Donnie Yen back into the franchise. Because let's be honest, the veteran actor and martial artist is downright mesmerizing whenever he's on screen.
There's no telling whether Star Wars will bring back any of these characters for their own projects though, considering the number of spinoffs currently being produced, it's certainly not impossible. But while we wait for any potential developments, we can take comfort in knowing that Andor will definitely arrive on Disney+ in 2022. And for more on what's coming up in the immediate future, check out our 2021 fall TV schedule.
Your Daily Blend of Entertainment News
Covering superheroes, sci-fi, comedy, and almost anything else in film and TV. I eat more pizza than the Teenage Mutant Ninja Turtles.
Your Daily Blend of Entertainment News
Thank you for signing up to CinemaBlend. You will receive a verification email shortly.
There was a problem. Please refresh the page and try again.