Ted Lasso's Carol Of The Bells: 6 Things I Absolutely Loved About The Season 2 Episode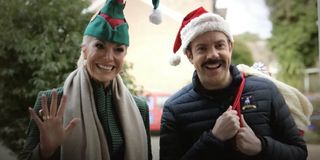 Ted Lasso Season 2 is in full swing, with one of Apple TV+'s best shows back for fans to watch. But this time around during Season 2, Ted Lasso decided to stray from the regular storyline of the show, and insert something I never thought I would watch in August - a Christmas episode.
But "Carol of the Bells" isn't any other ordinary Christmas episode. No. "Carol of the Bells" is one of the best Christmas episodes that I have watched on television in the last couple of years, with so much story that's told in such a small amount of time. And honestly, I feel the need to write about it, because there's so much to gush about in this fantastic addition to the Ted Lasso story line-up. From the lovely story to the talented Ted Lasso cast, this episode had it all.
This article contains episode details from Ted Lasso Season 2's "Carol of the Bells."
When The Episode Divulges Into Separate Storylines, All For It To Come Together At The End
What drew me into Ted Lasso in the first place was its enriching underdog story that makes for a wonderful tale led by a great leading man. However, with "Carol of the Bells," I found myself actually enjoying that it didn't necessarily follow the regular storyline.
It still began in the Richmond locker room with everyone's favorite soccer players, but there was no pressure of winning a game this time around. No therapist was making things a bit difficult for Ted. No news room. Just pure Christmas cheer that follows different characters into their own situations on Christmas day.
It was a nice diversion from the normal hijinks that the show gets up to, with plenty of fun moments that not only make you laugh but wish that the Christmas season was near.
How It Didn't Stray From Ted's Holiday Depression Despite Being All About Christmas
We all know that Ted (played by Jason Sudeikis) is a very optimistic man. It's what makes him a protagonist that you want to root for in a show like Ted Lasso. However, one of my favorite moments of this series so far was its handling of Ted on Christmas.
It was the first one during the series that he was away from his family after their separation, and while at first, he seemed to be putting up a brave face for his son and even for his wife, that slowly faded away as he began to drink.
Then, we see him watching It's A Wonderful Life (which can be a very depressing movie for some people around Christmas time) while continuing to drink. While we do love to see Ted being the optimistic guy that he usually is, I can appreciate that the creators of the show didn't just cover up Ted's feelings when it came to Christmas, and the sadness he must be feeling about it.
How Rebecca Helped Ted Out Of His Funk
I swear, I never thought I would love Rebecca as much as I did in "Carol of the Bells." While Rebecca has had a long journey to becoming a better person, all the way from the star of Season 1 of Ted Lasso, I think this was one of her best deeds yet. She had her own plans to get to - I mean, she was literally invited to a Christmas party with Elton John.
But instead, she decides to surprise her friend, take him out on Christmas, and show him what she does on the holiday to make it special. She takes him to the streets, watching carolers, and then goes to several different homes to give kids toys for Christmas, trying to bring a smile to his face.
If that's not the kindness of someone who genuinely cares about someone's happiness, I don't know what is. It was the perfect way to show how far their friendship has come in the show.
When Roy And Keeley Were Honest With His Niece - And Decided To Create A Christmas Miracle
I believe when it comes to kids, people do like to sugarcoat issues that happen to them when they don't want the child to cry. However, in Ted Lasso, that was very much not the case, as Roy and Keeley were quite honest with Roy's niece when she told them that a boy at school bullied her because of her breath, which inspects for himself. I mean, Roy's choked back, "I think you might be dying." gets me every time.
But what makes this situation even more fun is that while they are brutally honest with the girl, they don't let her just sit in her misery. They decide to give Roy's niece a Christmas miracle so that she can get her nice breath back again, walking all over to find a dentist on Christmas.
And then near the end, they go to the bully's house, just so they could get him to apologize and make her day a little brighter. Roy and Keeley's relationship has been a joy to watch develop over the last season and a half, but this was certainly one of my favorite moments between them.
How Leslie Suddenly Became Everyone's Favorite Party-Thrower
Let's be honest - Leslie is a dork. We watch him on Ted Lasso and we think that there's no way this guy is going to ever become super popular. He's just that guy. He's good at his job but lacks in social skills, even if he loves his family.
However, in "Carols of the Bells," when Leslie and his family are having their annual Christmas dinner, several people show up. It's not that much of a shock - Leslie and his family do open their table up to people during the holiday, but usually not that many show up.
But this time, practically half of the Richmond squad shows up, ready to celebrate, each with their own food of choice. It began with Sam, and then trickled down to several people coming in to celebrate.
That one shot where it begins with Leslie at the head of the dining table and then it slowly pans down to show everyone that had shown up to celebrate with him and his family makes me smile so much. It's a wonderful way to show how the season can bring the most unlikeliest of friends.
When Rebecca Sang Christmas Carols Amazingly
I mean, how can I not put Rebecca's amazing singing talents from Ted Lasso in here from "Carol of the Bells?" As one last hoorah on Christmas, Rebecca, Ted, and a group of carolers head over to Leslie's home to surprise everyone there with Christmas carols, bringing all of the occupants of the home out for a party.
Hearing Rebecca sing always gets me on my feet. Who would have thought that she'd have such a soulful voice? But at the same time, hearing her sing Christmas carols is a whole new type of serotonin I didn't know I needed.
From some of the most heartwarming moments to funny bits that will make you laugh, Ted Lasso's "Carol of the Bells," was one of its best episodes yet - and honestly, it deserves all the praise in the world. If you ever wanted a wholesome comedy, look no further than here. If you haven't been caught up with Ted Lasso Season 2, be sure to watch it now on Apple TV.
Big nerd and lover of Game of Thrones/A Song of Ice and Fire. Will forever hate season eight. Superhero and horror geek. And please don't debate me on The Last of Us 2, it was amazing!
Your Daily Blend of Entertainment News
Thank you for signing up to CinemaBlend. You will receive a verification email shortly.
There was a problem. Please refresh the page and try again.