Chip Gaines Is Finally Cutting His Hair, And I'm Not Gonna Miss It / Am Totally Gonna Miss It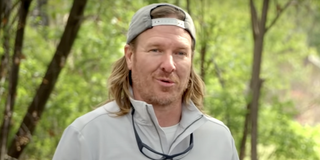 Chip and Joanna Gaines are beloved to many because of their time on the home renovation series Fixer Upper. So, fans were glad to welcome them back earlier this year when Fixer Upper: Welcome Home began airing on Discovery+. Unfortunately, those same fans overwhelmingly shared disapproval on one aspect of the new show, and that was Chip's much longer than usual hairstyle. Now, he's revealed that he's finally going to cut his hair for charity, and I might be a little torn over whether I'll miss it or not.
Viewer complaints about Chip Gaines' hair reached an obvious fever pitch back toward the end of July, when his wife Joanna shared an image of them celebrating the launch of their Magnolia Network app. There were cries aplenty for the newly hirsute home renovation expert to shed the longer locks in the comments on that post, and while Gaines admitted that the new style was a bit of a bucket list item for him (and also not entirely done on purpose right now), he also said he was going to keep growing it so he could donate it to charity.
Now, the time has come for him to to do the big chop, and he's spelled out the reasoning in an Instagram post of his own. Take a look!
As Chip Gaines said he would in July, he's donating his hair to charity, specifically to benefit St. Jude Children's Research Hospital, and now he's issued a challenge to his fans and followers to help out and raise as much money as possible for the institution. If you're wondering how this will work, the details were spelled out further in a press release. Apparently, while we know for a fact that the hair is coming off this Friday, August 27, people will be able to determine the exact length of the cut as they make donations.
Every time a donation milestone is reached, additional hair will be trimmed, so if fans really put their all into it, Chip Gaines could end up with a shaved head, just like he did in 2017 when he also donated his hair to help out the charity.
That first haircutting mission, nicknamed Operation Haircut, managed to raise $230,000 for St. Jude through social media. The Gaineses also teamed with Target that year to update the patient family dining room at Target House, which is a long-term "home away from home" that houses the families of patients who are receiving treatment at St. Jude. Two years later, in 2019, Chip Gaines also helped to raise another $998,000 for St. Jude with his Chip in Challenge, and the couple also unveiled a garden themed playhouse at Target House for St. Jude patients.
As of right now, this new challenge has raised $17,600 toward its goal of $100,000.
Clearly, Chip and Joanna Gaines have a passion for helping the kids at St. Jude and their families, so viewers have been enduring his long hair this year for a very good reason. I must admit that I agree with many of the fans who don't feel that it really suits him (even though Joanna and their kids seem to like it). But, at least him growing his hair out seems to always mean that he's planning to raise money with it, and that's a very good thing, so I'm ready for the next shaggy hair situation!
However, if you'd rather Chip Gaines were sporting a bald head, you can help him get there this time by making a donation by this Friday, August 27.
Bachelor Nation, Gilmore Girl; will Vulcan nerve pinch pretty much anyone if prompted with cheese...Yes, even Jamie Fraser.
Your Daily Blend of Entertainment News
Thank you for signing up to CinemaBlend. You will receive a verification email shortly.
There was a problem. Please refresh the page and try again.