Fans Aren't Loving Fixer Upper Star Chip Gaines' New Haircut, But There's A Reason It's So Long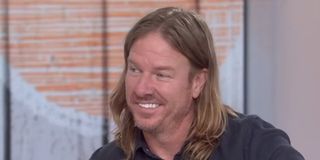 TV fans aren't always intimidated or shy about letting their favorite celebrity know how they feel about their choices, and Fixer Upper's Chip Gaines would know more about that than many right now. For months, followers have been commenting about their displeasure over Gaines' long locks. But in typical Chip Gaines fashion, the chatter doesn't seem to bother him. Still, Joanna Gaines can't even celebrate with her husband without fans commenting on his hair, as Fixer Upper fans took to social media to let Chip Gaines know they aren't loving his long locks in a post celebrating their Magnolia Network.
The discourse over whether the Fixer Upper star should or shouldn't cut his long locks is still raging on. Joanna Gaines took to Instagram to share her and her husband Chip Gaines' celebratory dinner after launching Magnolia Network. She thanked her husband while shouting out the couple's team and other Magnolia Network stars. To see the Gaines' slider feast, check out Joanna Gaines' celebratory post below:
After a successful launch, the couple seemed to rejoice in their meal of sliders without any concerns for hair length. The meal was a well-deserved reward after Chip and Joanna Gaines suffered a few setbacks in the Magnolia Network's launch. While the husband-wife duo celebrated the momentous occasion, followers couldn't help but voice their opinion on Chip Gaines' long tresses.
One follower didn't bother to congratulate the married duo. Instead, he pleaded with Joanna Gaines to take the scissors to Chip Gaines's latest look:
Another follower bypassed Joanna Gaines and went straight for Chip Gaines. They decided to comment on the post:
Another fan chose to comment on Chip Gaines' long hair instead of celebrating the couple's big moment, although not by demanding a cut. The commenter responded to the post, saying:
Some fans weren't as kind with their comments as others. Another fan was a little harsh by saying to Chip Gaines:
But Instagram wasn't the only place where fans voiced their disdain for Chip Gaines' hair. The discourse trickled over to Joanna Gaines' personal Facebook page. Some couldn't help but notice the location of the photo – New York City's The Polo Bar. One follower commented:
Another fan went the less comical route by calling out Chip Gaines' looks overall just because of his hair:
That comment was followed up by a comment on Chip Gaines' looks that was a little kinder by championing his previous shorter hairdo.
While some of these comments were a little out-of-place, many Chip and Joanna Gaines' fans celebrated the couple's long road to Magnolia Network's launch. Chip Gaines' hair has become an issue Fixer Upper fans won't let go of. But there might be some justified reasons for Mr. Gaines growing out his hair that fans aren't considering.
The Real Reason Chip Gaines Decided to Grow Out His Hair
In recent weeks, the Fixer Upper patriarch has been incredibly open about the real reason for letting his hair grow. Chip Gaines revealed to Access Hollywood that growing long locks was a bucket list item for him. Gaines spilled that having long hair wasn't only a long wish for him but a result of the quarantine shutting down barbershops. Many can relate to his reasoning behind his long tresses.
Chip Gaines also gave NBC's Today another reason for his long hair, and it's a beautiful one. Gaines revealed to the morning show that he will be donating his hair for charity soon. The decision isn't anything new for Gaines as he cut off his hair in 2017 to donate to the St. Jude Children's Research Hospital.
Well, there's the reason for Chip Gaines's long locks. Maybe the return of Fixer Upper will calm some fans' qualms. Hopefully, fans of the Gaineses will be more understanding of Gaines growing out his hair during the pandemic.
A boy from Greenwood, South Carolina. CinemaBlend Contributor. An animation enthusiast (anime, US and international films, television). Freelance writer, designer and artist. Lover of music (US and international).
Your Daily Blend of Entertainment News
Thank you for signing up to CinemaBlend. You will receive a verification email shortly.
There was a problem. Please refresh the page and try again.