Big Brother 23 Spoilers: Can Derek Xiao Survive A Backdoor Nomination?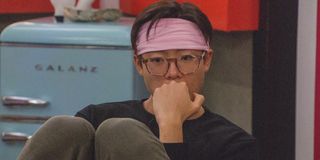 Warning! The following contains spoilers from the Big Brother Season 23 live feeds. Read at your own risk!
Sarah Beth Steagall didn't really have a plan going into her Week 7 Head of Household win, but thanks to Kyland Young, the Big Brother houseguest was inspired to make a "big move." After Xavier Prather secured a clutch veto win that reversed his unfortunate situation of landing on the block via the roulette wheel, Sarah Beth had all the pieces in place to carry out her plan. The question fans may have though is, can fan-favorite Derek Xiao escape being evicted via backdoor nomination by Sarah Beth?
It's an interesting situation because once the nomination was made, it seemed almost obvious Claire Rehfuss would stay in the house over Derek Xiao. Now, as the hours tick down to eviction night, the answer is not so obvious. For those not on the live feeds, or just in need of a refresher, here's what's been happening that could very well save Derek X from leaving the Big Brother house for the jury.
Derek X Inspired Tiffany To Make A Move... Possibly By Accident
Not long after Derek Xiao was officially put on the block, he talked to Tiffany Mitchell about feeling down about the odds of staying in the house. When Tiffany asked why, Derek X said he knew Kyland Young and Xavier Prather wanted him gone, and he saw them leave a room earlier that day after a long conversation with Derek Frazier. Tiffany didn't know about that, but she did know Kyland and Xavier already had a four-person "alliance" with Sarah Beth Steagall and Alyssa Lopez, which set off alarm bells.
Essentially, Tiffany realized that Kyland and Xavier had set themselves up to be in an incredibly good spot these final weeks, while other members like her, Hannah Chaddha, and Azah Awasum are very much at risk with Alyssa and Sarah Beth still in the game. Tiffany also remembered that she was forced to concede her plan to send out Christian Birkenberger two weeks before and realized Kyland hasn't had to sacrifice anything for the good of The Cookout. The realization made Tiffany mad, which led to a tense showdown between Tiffany, Xavier, and Derek F in the kitchen.
Tiffany pushed her Big Brother alliance members at first and pointed out that she's conceded a lot for The Cookout only to get little in return but then eventually backed down. Just when it seemed she'd given up, Tiffany told the live feed viewers that her plan was to feed Derek Xiao all the information he needed to set himself up in the best possible position on Thursday but try her best to act as though she had no impact on the decision. With her help, Derek X has gotten a meaningful level of support from Tiffany, Hannah, and Azah, but he needs at least four votes to stay.
Kyland Begins To Doubt His Original Plan
It's important to know that while this is Sarah Beth Steagall's Head of Household, Kyland Young has controlled all the nominations and decisions. It was his idea to backdoor Derek Xiao, and in his defense, it was a move he felt best for The Cookout as well as his game. He seemed rather unshakable in the plan on Monday, but following his kitchen showdown with Tiffany and a couple of conversations with Derek X, we've seen him cast some considerable doubt on the decision.
Kyland spent a good chunk of time on Wednesday talking to his fake Final 2 partner Sarah Beth and lightly suggested the possibility of switching the target to Claire Rehfuss. Sarah Beth didn't seem all that receptive to the plan, but that's only because this HOH has sent her from loner to one of the most well-aligned players in the house. Of course, the latter is not true, but in Sarah Beth's perception, she seems to believe she's forged a lot of alliances this week with her intention to take out a big target.
The important thing here is that the plan to save Derek Xiao hinges on a commitment for a fourth vote. Assuming Tiffany Mitchell, Hannah Chaddha, and Azah Awasum are on board, Derek needs a commitment from Kyland Young, Xavier Prather, Derek Frazier, or Alyssa Lopez. Securing Kyland's vote doesn't seem impossible at the moment, and the most likely path to Derek X's survival, but there's one more thing that's going to be a huge hurdle to get Kyland on board.
Xavier's 24 Hour Isolation May Be The Key To Saving Derek Xiao
If there are two people in the house that absolutely don't want to save Derek Xiao under any circumstances, it's Xavier Prather and Alyssa Lopez. The latter is more or less mad Derek X sent home her showmance Christian Birkenberger, and as for Xavier, Derek X is the final threat he thinks he'd have to deal with to coast to The Cookout's Final 6. Xavier has been a major thorn in Derek X's efforts thus far, but thanks to a penalty from his veto win, he may give Derek X a window to save himself.
Xavier's punishment for his veto win is 24 hours of isolation from the rest of the Big Brother house. Per the chatter in the house, he's set to go into isolation Wednesday night and will return just in time to cast his vote during the live eviction episode. Xavier is the strongest opposition to Derek X and Tiffany's plan. If he is gone, I think there's a very good chance Kyland and maybe even Derek F can be swayed into keeping Derek X.
With Xavier Prather gone, Kyland Young has more time to ponder if keeping Derek X isn't actually better for his game in the short term. For Derek Frazier, he's already stated keeping Derek X is better for his game but has committed to voting in solidarity with Xavier and Kyland. Should Kyland waffle, it's not crazy to believe Xavier could exit his isolation only to realize targets shifted in his absence. Bottom line, there's a very real chance Derek X could flip the vote, and I know that's the news many Big Brother fans want to hear.
As for whether or not it'll actually happen, we can only tune into Big Brother on CBS (opens in new tab) Thursday, August 26 at 8:00 p.m. ET to find out. Are you rooting for Derek Xiao to stay? Sound off in our poll below and let us know!
This poll is no longer available.
Mick likes good television, but also reality television. He grew up on Star Wars, DC, Marvel, and pro wrestling and loves to discuss and dissect most of it. He's been writing online for over a decade and never dreamed he'd be in the position he is today.
Your Daily Blend of Entertainment News
Thank you for signing up to CinemaBlend. You will receive a verification email shortly.
There was a problem. Please refresh the page and try again.