Big Brother 23: Why The Cookout's Tiffany Mitchell Is My Frontrunner To Win It All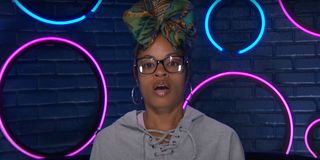 (Image credit: CBS)
Spoilers for recent episodes of Big Brother's latest season, so be warned!
The currently airing Season 23 of Big Brother is already looking a whole lot different than any from the past. Of course, there are new twists and powers to be had, but not too surprisingly for a game that celebrates expecting the unexpected, a groundbreaking new alliance came to fruition comprising all-Black contestants, affectionately called "The Cookout." In my mind, one of The Cookout's key members, Tiffany Mitchell, has asserted herself as the frontrunner to win the whole season, and in more ways than one.
Her personality may be a little forthright for a game of social niceties, but make no mistake, Tiffany Mitchell is here to win Big Brother 23. The frontrunner phlebotomist from Detroit has been stealthily making huge game moves in the last few weeks. From alliances to strategy to end game jury votes, Mitchell is playing and betting big. Now let's dig into why I think she's destined for victory.
Tiffany Mitchell Helped Formalize Big Brothers' First-Ever All-Black Alliance
As was mentioned, Big Brother 23 is already monumental thanks to The Cookout alliance. And it's been a long time coming. After the rise of the Black Lives Matter Movement of late, and years of criticisms that the show lacked substantial diversity, this season features the most Black contestants ever. Immediately on Day 1, The Cookout was formed very symbiotically between Derek Frazier, Azah Awasum, and Tiffany Mitchell – in the literal kitchen, no less. It only took a few words and knowing glances to pull in Kyland Young, Xavier Prather and Hannah Chaddha later on.
But let's not forget that the clear frontrunner of the season, Tiffany Mitchell, basically formalized The Cookout alliance. Though Derek Frazier was noting the importance of their group coming into the house, Mitchell was the one to officially state that they'd need to "stick together" going forward. Even more impressive, Mitchell laid down the foundational rule that has allowed the group to pass under the radar: secrecy. So long as they trust each other to keep the group's interests in mind, there's no reason to tip anyone off to their existence.
Big Brother 23's Tiffany Mitchell Adds A New Strategy To Her Arsenal
Fans first saw Tiffany Mitchell's jury angle when Christian Birkenberger was voted out on Week 5. However, the August 26 episode of Big Brother 23 cemented it as a bona fide strategy. Similar to the case of Birkenberger, Mitchell heavily advocated to keep Derek Xiao in the house this week by working on swaying Azah Awasum and even feeding information to Xiao to help him make his case to others. At first glance, it seemed crazy – not only was Xiao a competition beast with multiple wins, but his chopping block buddy Claire Rehfuss was supposedly Mitchell's closest ally outside of the Cookout alliance.
But there's a method to Tiffany Mitchell's madness. The Big Brother 23 frontrunner is only making it seem as though she's trying really hard to help these big players – before she then sends them out the door. Christian Birkenberger didn't make it to jury when voted out, but his showmance Alyssa Lopez will (if she doesn't make it to the end). Last night, Derek Xiao was ultimately voted out, too, leaving Hannah Chaddha without her (semi)showmance. In theory, Mitchell could now pull in Lopez and Chaddha for easy votes in the meantime. What's more, if Lopez and Chaddha are eventually voted out, and Mitchell makes it to the final two unscathed, then she has likely four votes already locked in her favor to win.
Tiffany Mitchell Created A "Buddy System" For Big Brother 23 Cookout Alliance
The end-game jury play isn't the first time Tiffany Mitchell has out-strategized the other contestants on Big Brother 23. In fact, it is but the natural extension of her strategy for Cookout members to pair up with someone outside the alliance. The logic is totally sound. With five of their six members each pairing up with someone else, the alliance guaranteed they would have the numbers and power going into the jury phase of the game. (Meaning, they could vote out who they wanted at will.) Moreover, they could then have an inside ear should their designated person become HOH (as was seen by Kyland Young and his "pair buddy" Sara Beth Steagall's HOH reign this week).
To me, Tiffany Mitchell's whole pyramid scheme is screaming Boston Rob – but on a whole other level. Boston Rob is the notorious player on CBS's sister show Survivor who came up with the original "buddy system." With that tactic, each person in his alliance had a buddy who they couldn't leave camp without, so their votes wouldn't be swayed by outliers. Basically, Mitchell is putting her own unique spin on that concept by seemingly giving the people in The Cookout the idea of freedom outside the alliance. In case you didn't know, Boston Rob ultimately won Survivor: Redemption Island and its $1 million prize and, by proxy, he won alongside his showmance (and later wife) Amber Mariano in Survivor: All-Stars. I would say Tiffany Mitchell is only a skip and a hop from attaining that status.
Personality Is A Huge Factor In Winning Big Brother, And Season 23 Is No Different
Big Brother 23's Tiffany Mitchell is similar to Survivor's Boston Rob in yet another way: an upfront and slightly abrasive personality. And like with Boston Rob, it could go two ways for Mitchell. One one hand, her regular spats in the house (even with other Cookout members) could cost her the votes from those she argued with. If Boston Rob's Survivor: All-Stars season is any indication – where the jury famously voted for Amber Mariano over Rob out of pure spite – Mitchell could lose out to her number two in the end based largely on her attitude. (Though, it would depend on who exactly she sat next to.) But true fans would still know who the real strategic player was.
Conversely, Tiffany Mitchell's attitude in Big Brother 23 could follow the way of Boston Rob's Redemption Island season of Survivor, when he eventually won. Mitchell's sometimes harsh personality could be a boon for others to want to take her to the end because they might think no one else would like her enough to vote for her. However, the opposite has previously been discussed concerning Derek Frazier – everyone supposedly wants to take him because he's a jolly guy/floater who won't win. But maybe for her next trick, Mitchell will make Frazier her patsy.
However things go, there's still a lot of game left to be played in Big Brother 23. Perhaps the other players will get wise to the cunning strategist in their midst and vote Tiffany Mitchell out sooner rather than later. It's possible, but clearly I don't think it's very likely. If anything, it feels like Mitchell is destined to win this season of Big Brother. She is now HOH this week and Sara Beth Steagall might want to watch out. Let us know in the poll below where you stand on my prediction!
This poll is no longer available.
Movies and TV News Writer
Freelance writer. Favs: film history, reality TV, astronomy, French fries.
Your Daily Blend of Entertainment News
Thank you for signing up to CinemaBlend. You will receive a verification email shortly.
There was a problem. Please refresh the page and try again.