30 Rock Season 6 Preview: Liz Lemon Has A Secret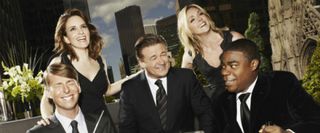 There has certainly been a lot of talk about the mid-season scheduling shake-up at NBC, and the recent antics of actor Alec Baldwin, but none of the press so far has actually focused on the returning, multiple Emmy Award-winning program that is 30 Rock. Sure, Community got the bump (which is certainly not 30 Rock's fault; they can't help that they actually have a decent viewership) and, well, so did Alec for his love of "Words with Friends," but what didn't get the bump is the upcoming season of Tina Fey's comedy.
To be fair, there was even another bump intricately involved in delaying the sixth season of the NBC sitcom to mid-season. That bump, of course, was Tina Fey's belly. Her pregnancy was one more reason that kept 30 Rock off the fall schedule. And ask yourself this: Did the delay until mid-season and the ensuing open slot actually save Community and grant it a third season? Probably not, but something to think about since the return of the series immediately put the other cult favorite on the sidelines.
Okay, enough about all the surrounding crap. Let's get down to business. Season 6 30 Rock business. All of your favorites are returning, but it seems that Liz Lemon has a new secret (a "bombshell")...what is she hiding? As the promo tells you, the secret of Liz Lemon will be revealed when the show returns, and it might take some guest stars like Kelsey Grammer (who should be in Chicago Boss-ing it up) to help undercover the mystery…or at least to scam Pete with the self-proclaimed "Best Friend Trio" of Grammer, Jenna, and Kenneth. No surprise, the new season looks great!
30 Rock returns to NBC, Thursdays at 8 p.m. ET starting January 12th, 2012. It stars Tina Fey, Alec Baldwin, Tracy Morgan, Jane Krakowski, Jack McBrayer, and Judah Friedlander. It was created by Tina Fey.
Your Daily Blend of Entertainment News
Thank you for signing up to CinemaBlend. You will receive a verification email shortly.
There was a problem. Please refresh the page and try again.