5 Directions The X-Men TV Series Could Go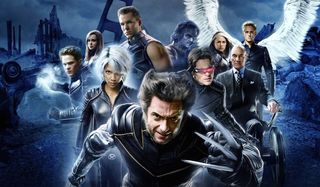 After leaving their mark on the big screen for over 15 years (and counting), the X-Men are now trying to bring their adventures to the small screen as well. Nearly a year after an X-Men TV show was first rumored, it was confirmed yesterday that Fox is pursuing a deal with Disney and Marvel to give the mutants their own "long-running" series, as opposed to a limited run. The X-Men universe has been featured in live-action on TV before, like the Generation X TV movie and Mutant X, but should this project get off the ground, it would be be the biggest, non-animated project for the X-Men on television.
Because this potential series is still in the earliest stages of development, we hardly know anything about it other than it won't feature Marvel characters that Fox doesn't have the rights to. However, we have some ideas for the show that would appeal to both hardcore fans and general audiences. Keeping in mind the current status quo in the films and a few rumors that were leaked months ago, these are a few of the directions that the project could take its mutant protagonists.
A Period Piece
With the exception of The Wolverine, every X-Men film since 2011 has been primarily set in the past. Since that formula has worked so far, why not keep it going for TV? If they take this route, there are two time periods that would be best explored.The first is the gap between X-Men: Days of Future Past and X-Men: Apocalypse, i.e. 1973-1983. Remember that because of Wolverine's actions in the past, whatever happened in the original timeline has been changed post-1973. The general population knows that mutants exist, so it would be interesting to see how society slowly changes in the years following. The other possibility would be having it take place post X-Men: Apocalypse to right before the 2000 X-Men movie, i.e. between 1983 and 2000. This would also touch on society dealing with Homo Superior's presence, but we would see how things differ from the world we originally saw in the first X-Men adventure.
Present-Day Adventures At Xavier's School
When Wolverine changed the past, we caught a glimpse of the new present-day/near-future timeline, and although it was light on specifics, things are more peaceful, and Xavier's School for Gifted Youngsters is still flourishing. Since there have been no plans yet for an "X-Men 4" or another flapship movie in this franchise, a TV series is the next best place to pick things back up. If the show takes things back to the present, we could get a deeper look at the lives of the students and staff at the school and the struggles they're facing there and in the outside world. Just because the Sentinels didn't wipe out nearly every mutant on Earth doesn't mean conflict of any sort was erased. The main complication for a series like this is that they wouldn't be able to include most of the major characters from the film. We'd be lucky if Patrick Stewart stopped by for a guest spot. Still, with enough creative workarounds, this would be doable.
X-Factor
Shortly after the X-Men TV series was first rumored, there was a report that it would be based off the X-Factor comic book run written by Peter David. This incarnation of the team was a government-sponsored mutant strike force, and its members included Multiple Man, Polaris and Quicksilver. Because Mystique saved President Nixon in X-Men: Days of Future Past, it's possible that in this new timeline mutants have a better relationship with the government. We've seen mutants as superheroes, but having a covert team that goes on black ops missions would provide a kind of excitement we haven't seen much of on the big screen. It would combine the comic book material with the high stakes spy world. Fox would also be wise to incorporate more sci-fi material into an X-Factor show, as many of the network's last sci-fi projects (some of which lasted, some not) handled the genre well. That way, we get superpowers and other strange phenomena.
Generation X
Before I continue, any new version of this would be so much better than that TV movie, now that comic book media is more widely appreciated. Professor Xavier's School for Gifted Youngsters may be the premiere academy for young mutants to learn how to control their powers, but it isn't the only such place. Generation X followed a group of students who trained at the Massachusetts Academy under Emma Frost and Banshee, and while the students weren't trained to commit crimes or wage war against humanity like Magneto wants, they were more cynical than the people you typically find at Xavier's school. Because Emma Frost and Banshee were both killed between X-Men: First Class and X-Men: Days of Future Past, new teachers would have to be used, but most of the kids from Generation X haven't been seen in the movies yet, so this would be the perfect opportunity to introduce them. Let's take a look at an alternative place where young mutants learn about their weirder-than-usual powers and how to make it in a world where they're looked at with suspicion and sometimes fright.
Agency X
Fox has given audiences several well-known action shows, so the X-Men may be able to follow suit with Agency X. In the comics, this group of superhuman mercenaries was originally co-founded by the mysterious Agent X, who spun out of the Deadpool comics and strived to be the best mercenary in the world. After training with several other individuals, he and the other main characters made a name for themselves hunting fugitives and taking on villains. The main issue with an Agency X TV series is it would have to be a loose adaptation, because several of the characters wouldn't be able to appear, namely Deadpool, who is sticking to the big screen, and Taskmaster, a character owned by Marvel. In other words, while the spirit of the story may be faithful to the comics, most of the principal players would not be. Regardless, if Fox wants something more edgy for the schedule, Agency X is the way to go.
Connoisseur of Marvel, DC, Star Wars, John Wick, MonsterVerse and Doctor Who lore. He's aware he looks like Harry Potter and Clark Kent.
Your Daily Blend of Entertainment News
Thank you for signing up to CinemaBlend. You will receive a verification email shortly.
There was a problem. Please refresh the page and try again.