5 Reasons Arrow Is Better Than The Flash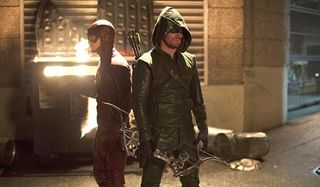 The CW's DC universe is pretty impressive. Over the three years since Arrow premiered in 2012, the universe has expanded to include sister series The Flash and upcoming spinoff Legends of Tomorrow. Both Arrow and The Flash have been huge success stories for The CW, and fans of both shows are lucky enough to get a double dose of superheroes each week. Of course, the many differences between the two shows inevitably draw comparisons between them. Arrow has admittedly had more time to establish itself than The Flash, as archer extraordinaire Oliver Queen has just begun his fourth season on the air on Arrow while speedster Barry Allen only is only racing into his second over at The Flash. While both shows definitely have their merits, comparisons between the two lead to one logical conclusion in my mind: Arrow is just better. Check out the five reasons why!
Taking The Superhero Biz Seriously
Arrow is a serious show. The main character has had a pretty grim outlook on life after enduring five years in hell, and the tone of the series has reflected that outlook. While serious, it's not always a grim show, and the seriousness of the drama has given it the ability to successfully go darker and lighter than its status quo. Arrow can find moments of humor even in episodes about assassins and drug dealers and anarchists. It works to humanize the characters, keep the stakes nice and high, and give more flexibility to the storytelling. On The Flash, however, the tone is consistently light and the dialogue is frequently peppered with adorable jokes the case of the week. The Flash just doesn't feel as believable when it goes dark as Arrow does when it goes light.
Skills Rather Than Superpowers
The argument about skills vs. superpowers is one for the ages. Arrow has always gone firmly on the side of skills. Oliver Queen is a hero completely lacking in any superpowers but boasting incredible abilities that he accumulated over a five-year crash course in survival. We only need to glance at his shirtless torso – or maybe more than glance – and see his scars to know that he's had to work his abs off to get where he is as a hero. Better yet, we even see him earning those skills via flashback and learning from his mistakes in the present. Barry Allen as the Scarlet Speedster on The Flash gained his abilities thanks to a handy dandy lightning strike that gave him superspeed and superhealing. His victories aren't always nearly as satisfying as Oliver's, and his claims of heroism ring slightly false.
Some Assembly Required
One of the most popular aspects of Arrow from the very first season has been Team Arrow. The dynamic between Oliver, Digg, and Felicity really works thanks to how the three people came together, but that chemistry wasn't just built overnight. It was slowly cobbled together, with each person carefully influencing the personality of the others, including Digg giving Oliver perspective about helping others and Felicity guiding him to always find another way. It's been a process, and it's been a joy to watch it unfold. Team Flash over on The Flash, however, came pre-assembled with STAR Labs. We never got to watch Barry win them over to his mission on merit, and because of that, there's not quite as much depth.
No Enablers
As close as Team Arrow has become over three years as a unit, nobody can accuse Digg or Felicity of enabling Oliver when he starts to make questionable decisions. Even the characters who spent most of the series not knowing about his double life never let him get away with his bad behavior without calling him on it. Oliver has to work for everything. It is admittedly frustrating to watch if the other all characters start piling onto him at once, but he is a better person and superhero for not being enabled. The Flash rarely sees characters calling Barry out on his bad behavior. Instead, Barry is frequently built up by his friends – sometimes even at Oliver's off-screen expense – as a hero rather than pushed to become better. It gives the impression that his hand is being held rather than pointed in the right direction.
No Reset Button
Three things have been mostly true about Arrow from the very beginning: the tone is serious, the hero lacks superpowers, and there's no going back. Season 3 did see the introduction of the Lazarus Pit as a tool to save the lives of those on the brink of death and theoretically resurrect the dead, but Season 4 has shown that people who go into the Pit do not come out the same, and even access to the healing waters may prove difficult in the future. The precedent is set that a do-over on death comes at a price. On The Flash, time travel became a plot device in an episode that undid a major character death and stopped a tsunami from swallowing Central City. The precedent has been set that what has been done can be undone (potentially without ramifications), and that hangs over the series as a possible reset button.
Catch The Flash on Tuesday nights at 8 p.m. ET and Arrow on Wednesday nights at 8 p.m. ET on The CW.
Laura turned a lifelong love of television into a valid reason to write and think about TV on a daily basis. She's not a doctor, lawyer, or detective, but watches a lot of them in primetime. Resident of One Chicago, the galaxy far, far away, and Northeast Ohio. Will not time travel, but will sneak references to The X-Files into daily conversation.
Your Daily Blend of Entertainment News
Thank you for signing up to CinemaBlend. You will receive a verification email shortly.
There was a problem. Please refresh the page and try again.