The That 70s Show Cast Reunited And It Was Adorable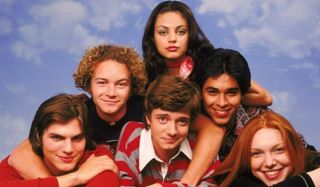 I hate to say it, but the golden years of the multi-camera sitcom are long gone. It's a style of comedy with a long and respectable history on network television, ranging from All in the Family to Cheers to Seinfeld, but not too many notable examples from recent years (especially outside of CBS). One of the last great sitcoms of the modern age came in the form of Fox's That '70s Show, which ended its run in 2006. Although the show ended almost a full decade ago, it seems that the cast remains close, as they recently reunited on the set of The Ranch for a picture that's as nostalgia-inducing as That '70s Show itself.
As you can see from actress Laura Prepon's Instagram post above, the central cast of That '70s show recently came together on the set of Ashton Kutcher and Danny Masterson's new Netflix series The Ranch. Complete with a caption referring to everyone as "family," the picture shows Mila Kunis, Ashton Kutcher, Danny Masterson, Laura Prepon, and Wilmer Valderrama all grown up and back together a full ten years after That '70s Show came to an end. If this moment conjures up insanely powerful pangs of the past, fret not; you aren't alone in that feeling.
It's not a huge stretch of the imagination to assume that everyone in this picture has fond memories of That '70s Show. After all, the wildly popular Fox sitcom ran for eight seasons and served as the jumping off point for each of their careers. Although they've all gone on to experience their own individual successes, we as fans will always remember them as the kids who would sit around getting high in the Forman's basement.
Of course, there's one notable absence in this photograph that any fan of That '70s Show will instantly pick up on: Topher Grace is nowhere to be found. As Eric Forman, Grace represented the face of the series until his departure to work on Spider-Man 3 at the end of Season 7. The show ultimately found a replacement for him in the form of Josh Meyers' Randy Pearson, but fans of the series widely panned the introduction of the new character. Grace ultimately returned to the series as Eric in 2006 for the series finale, lending a sense of closure to his multi-year character arc on the series.
As a long time fan of That '70s Show, it's undeniably awesome to see (almost) everyone back together again. The classic FOX sitcom captured the spirit of an iconic decade, and if they decide that they want to reunite for an actual reunion show, then we're completely on board. In fact, that could be a possibility moving forward. More on how That '70s Show cast members could reunite on the next page. As we noted, the cast sans Topher Grace got together on the set of The Ranch, a Netflix series starring Danny Masterson and Ashton Kutcher. The show has already released 10 episodes in its first season with 10 more to go. So far, we haven't officially heard that any other That '70s Show actors might be on the series; but there is potentially good news. Just a few weeks ago, Netflix went ahead and renewed the series for Season 2. Plus, Netflix loves to remind its subscribers of former TV projects. So, if anyone from Topher Grace to Mila Kunis wants to jump in, I'm sure the Netflix series would find a way to add 'em.
I mean, really, Ashton Kutcher is married to Mila Kunis. I know she's all busy with Bad Moms and the rest of her movie career, but everyone would be so behind a small cameo one would hope she might pop up at some point. Plus, Laura Prepon is already part of the Netflix family, starring in Orange is the New Black. I'm not saying she has to make the hop to The Ranch for a guest stint, but these guys could totally make it happen if they wanted to.
If you haven't seen any of the raunchy cowboy comedy that has a heart, you can check out the trailer, below.
Originally from Connecticut, Conner grew up in San Diego and graduated from Chapman University in 2014. He now lives in Los Angeles working in and around the entertainment industry and can mostly be found binging horror movies and chugging coffee.
Your Daily Blend of Entertainment News
Thank you for signing up to CinemaBlend. You will receive a verification email shortly.
There was a problem. Please refresh the page and try again.