Mila Kunis Was Just Sued For Stealing A Chicken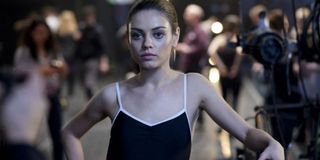 Mila Kunis has been plastered over headlines for the past couple days for quite the bizarre story. The actress is in the middle of a lawsuit over… get this… a chicken. And to make matters even weirder, it is a chicken she apparently stole over 25 years ago in the Ukraine. This is not the plot to her next comedy, this is real life, and we're with you, it's totally ridiculous.
The suit has been filed by a woman named Kristina Karo who claims that she was best friends with Kunis 25 years ago in Ukraine. TMZ first broke the story of the stolen chicken who was adorably named Doggie. Don't worry, Karo doesn't claim any chicken abuse against Kunis, but more 'chicken envy'. Apparently when the two were in first grade, Kunis would often go to Karo's house to play with the chickens, and grew to love Doggie the chicken. So, one day when Doggie disappeared, Karo claims that Kunis confessed to stealing him telling Karo that she had plenty of chickens as pets already.
So, a couple kids playing with chickens 25 years ago turns into a lawsuit? Well Karo's claims don't stop there. Apparently when Doggie disappeared Karo became an emotional wreck and had to go to therapy. Soon after, Kunis had moved to Los Angeles and became a star, and Karo went in a similar direction, moving to the city to pursue a singing career. Karo claims that the proximity to Kunis brought back all the horrible memories and put her right back into therapy. Now, Karo wants five thousand dollars total for therapy money and the cost for emotional distress. Karo believes that Kunis' actions prevented her from pursuing the American dream. Conveniently though, right when this scandal popped up, Karo's music video is now starting to get more views…
But, the best part about the whole story is that Kunis responded with partner, Ashton Kutcher. As Kutcher records Kunis calling Karo out on her chickenshit, the two hysterically ridicule the outlandish claim, and Kunis admits that she's yet to receive any actual documentation of a lawsuit.
What it comes down to, is this is probably just a crazy scheme to get the attention of the media, and it begs us to question, how far will someone go to be famous? At least leave the chickens out of it.
Your Daily Blend of Entertainment News