9-1-1's Peter Krause Explains How Bobby's Relationship With Wendell Plays Into Fiery New Episode
Don't mess with Bobby Nash.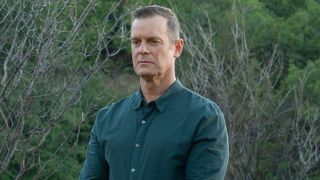 (Image credit: Fox)
Now that 9-1-1 has essentially traumatized viewers and the 118 enough with Buck's near-death experience, the story can kick back to Bobby -- who just can't get a break these days. The fire captain has been trying to solve the mystery surrounding the death of his AA sponsor, Wendell. Athena and May have even gone undercover at a rehab facility to help. And in the next episode of the Fox drama, Bobby is going to get himself into a fiery situation, during which his relationship with Wendell will get the spotlight, per Peter Krause.
It's no secret that Bobby Nash has dealt with a great deal of pain throughout his life, beginning with the loss of his wife and kids in a fire in Minnesota. That led to him turning to alcohol and eventually embarking upon a long and winding road to recovery. The fall finale of 9-1-1 saw Wendell acting strangely, and his body was later found in a field during a fire that the 118 responded to. Since then, Bobby has tried to piece together what happened and more recently zeroed in on the rehab facility at which Wendell was staying.
In a new interview with Entertainment Weekly, Peter Krause, who plays the 118 captain, teased what fans can look forward to in this week's episode. The installment will apparently include some flashbacks that details Bobby and Wendell's relationship, and it sounds like it's good to be an emotional ride:
While the series doesn't focus on Bobby's sobriety all that often, it does come up every once in a while, because it's still a vital part of the character's backstory. Wendell's connection to all of this is also intriguing, and one can only imagine what we'll learn in this week's installment.
9-1-1's spring premiere continued the Wendall storyline and centered on Bobby, Athena, and May trying to figure out what really happened. The sneak peek shared with EW shows a fire at the facility they're checking out, and it occurs as Bobby is questioning someone. But according to Peter Krause, his character will stop at nothing to get justice for his friend and sponsor, even in the midst of a dangerous blaze:
If there's one thing you need to know about Bobby Nash, it's that he's committed, especially when it comes to caring for people and seeking the truth within a situation. While it's hard to predict what caused the fire at the facility, it does seem a bit suspicious that it happened while Bobby was there questioning someone. Could someone have started it purposely to throw off the investigation? Only time will tell.
In addition to this latest episode, there are still some unexpected and exciting storylines on 9-1-1 to come. I'm just hopeful that they're not as emotionally draining as the ones we've had thus far. As exciting as these arcs can be, I do want these characters to have some form of peace, and Bobby is definitely someone who deserves it.
To get more insight into Bobby and Wendell's relationship and the former's past in general, be sure to watch a new 9-1-1 on Monday, March 20, at 8 p.m. EST on Fox. The episode will also be available to stream next day using a Hulu subscription. And check out CinemaBlend's 2023 TV schedule to see what else is headed to the small screen this year.
Your Daily Blend of Entertainment News
Passionate writer. Obsessed with anything and everything entertainment, specifically movies and television. Can get easily attached to fictional characters.