ABC 2011 Fall TV Premiere: Charlie's Angels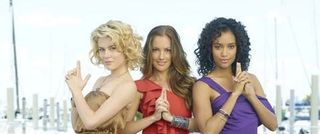 Despite being too young for 70s shows I've always been a huge fan of many of TV's best offerings from that era, especially comedies like Taxi. But I just never could get into Charlie's Angels, so if you're wondering why ABC is bothering to redo the iconic series look no further than avid TV watchers like me who can finally figure out what the big deal was.
With recent major network reboots of classic shows like Bionic Woman and Knight Rider sputtering and dying, there's a lot of interest and trepidation about ABC's redo of the Angels. From the synopsis it appears ABC is doing the smart thing and actually remaking the show that once was, rather than trying to reinvent it for today's audience. It doesn't matter if it's 2011 or 1975, attractive woman running around Miami, kicking ass and catching bad guys, will always be a good idea.
Below is ABC's synopsis for the series:
Charlie's Angels will begin airing Thursdays at 8:00 p.m. ET on ABC this Fall.
CLICK HERE to view ABC's Fall 2011 Primetime Schedule.
Image ©ABC
Image 1 of 25