ABC Could Revive Ghost Whisperer And Old Christine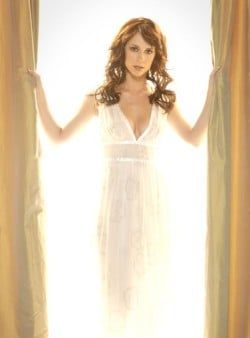 While CBS doesn't release their schedule until later this morning (it's the middle of the night as I'm writing this), word has already come out that the network has canceled Ghost Whisperer and The New Adventures of Old Christine, among five other shows. But, there's hope yet for these two.
ABC has expressed interest three years in a row of taking Old Christine off of CBS's hands, should the network be interested in letting it go. Of course, a lot of that was before ABC went out and established a whole new night of comedy in one fell swoop this past season. Still, Christine would be a good fit with their "Comedy Wednesday" block. Right now, they've got a new series, Better Together, joining The Middle, Modern Family and Cougar Town next season.
As always, it comes down to money. Christine has been on the air for five seasons now, so it's getting more expensive to make. And I'm sure Julia Louis-Dreyfus doesn't come cheap for anyone. It will probably be a matter of how confident ABC is in their new comedies in development. Deadline is reporting that the financials may have killed the deal, but nothing is official.
It seems a better chance that Ghost Whisperer could make the transition, as ABC Studios has a hand in the production of that show. Both series have been sold into syndication, so there's profit to be made with new seasons, but with GW, ABC gets a cut of that profit, as well as any revenue a new season would bring.
Of course, as always it will come down to money. Perhaps a budget cut for one or both, including potentially trimming the cast, or at least reducing the number of episodes they each appear in. Honestly, both series could probably survive losing at least one or two cast members.
It's hard to say how long it might take to get a decision made, as production doesn't need to start up for awhile yet. At the same time, the network would want to secure the cast into any new deals that would be necessary, as well as ensuring that none of the sets get torn down, so I can't see them taking more than a couple of weeks at the most.
You can find more on the 2010-2011 television season HERE!
Your Daily Blend of Entertainment News
Your Daily Blend of Entertainment News
Thank you for signing up to CinemaBlend. You will receive a verification email shortly.
There was a problem. Please refresh the page and try again.