ABC Goes Straight To Series With KJ Steinberg Project Mistresses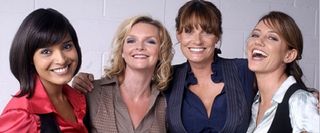 Is ABC desperate to replace Desperate Housewives? It looks that way; as the veteran series is on its way out at the end of this season, the network has given the greenlight to Mistresses from KJ Steinberg, creator of The Nine to go straight to series with a summer 2013 debut. From housewives to the "other woman" is an interesting shift, but is it interesting enough to both differentiate it from the cancelled series and earn the love of its fans?
Deadline reported today that ABC has given a straight-to-series order to the new drama, which isn't so new to BBC viewers. Yes, it's another idea taken from the Brits. The UK version of Mistresses was on for three seasons on BBC One and brought across the pond on BBC America. This series will join a slew of recent British formats being retooled for the American audience, including White Van Man which earned a greenlight for a pilot today after casting Kyle Bornheimer.
Mistresses is about the lives of four women who find themselves entangled in romances of questionable moral value and deal with the fallout. Women who thrive on drama, secrets, betrayal and scandal? Sounds like Wisteria Lane to me. ABC announced the cancellation of Desperate Housewives back in August to very little surprise, and seems to be seeking a replacement. They've also greenlighted a pilot for a drama from Housewives creator Marc cherry called Devious Maids. Will either new project fit into the hole left by the world's most famous housewives?
Your Daily Blend of Entertainment News
Your Daily Blend of Entertainment News
Thank you for signing up to CinemaBlend. You will receive a verification email shortly.
There was a problem. Please refresh the page and try again.