Adrien Brody To Star In Harry Houdini Miniseries In Development At History Channel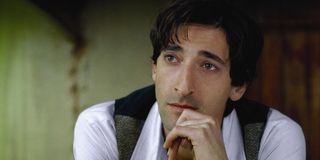 History seems to know when it has a good thing going. The network has had major success with two miniseries, The Bible and Hatfields & McCoys, so it's not particularly surprising that the cable channel would want to continue to explore the format with other stories. In the case of its next multi-hour project, it's the story of celebrated illusionist and escape artist Harry Houdini. Adrien Brody will star in the project.
EW reports that Brody is on board to star in the miniseries History is developing, which would trace the turn-of-the-20th-century master magician's life from poverty to fame. Gerald W. Abrams - whose producing credits include Modern Marvels and J.J. Abrams (his son) - is on board to executive produce.
As EW points out, Adrien Brody's better known for his feature work, including winning an Academy Award for Best Actor in a Leading Role for The Pianist back in 2002. The actor may also be remembered for planting a big kiss on Halle Berry when he took the stage to collect his award. His recent credits include playing Salvador Dali in Woody Allen's Midnight in Paris, and he's credited for a role in Paul Haggis' upcoming film Third Person. If he's going to shift over to television, playing Harry Houdini in a miniseries for History sounds like a great way to do it.
On the subject of the miniseries itself, it sounds like a great project for History, which seems to have found a great way to celebrate historical stories that bring in the viewers, as the success of The Bible and Hatfields & McCoys attest. Houdini's story is one that continues to fascinate people, a century after his time. It seems like a great one to tell in a miniseries.
Your Daily Blend of Entertainment News
Thank you for signing up to CinemaBlend. You will receive a verification email shortly.
There was a problem. Please refresh the page and try again.