The Affair Review: Novel New Drama Explores Unreliable People, Memories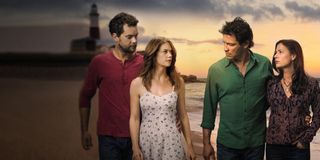 Showtime has set up The Affair with a title and a format that follows two people committing adultery. Regardless, it's not really a drama that is simply about adultery. It's more about memory, and how two people can look back and see events unfold in two very different ways.
When we first meet Noah Solloway (Dominic West), he's a family man and recently published author dealing with two unruly teenagers, as well as a couple of younger kids. His wife, Helen (Maura Tierney), seems harried but competent and in his explanations of a trip to the Hamptons, the two behave like a true team. He says he is content with his wife and family, but when he meets Hamptons local Alison Bailey (Ruth Wilson), he is inexplicably drawn to her in ways that will change both of their lives moving forward.
The crux of the story is that they will eventually embark on an affair, although this time they get no closer than a few lewd, treacherous moments. The first part is told from Noah's perspective, and he remembers Alison as flirty and forward, a dolled up sex kitten in a too-tight dress. The second part is told from Alison's perspective, and she's in a much more hollow place. Following the death of a child, she's slowly been unraveling, and while her handsome partner Cole Lockhart (Joshua Jackson) seems to be getting past his child's death, she sashays between numb and depressed. When she meets Noah, he makes her laugh, but she also sees him as a man looking for something from her.
It's not just the big picture that changes when Alison and Noah tell their stories. The details change, too. Noah's teenaged daughter complains about the calories in food, but in Alison's memory, she's upset about coffee options. Clothing changes, conversations change, and most remarkably, the way Noah and Alison see themselves and each other is totally different depending on who is telling the story.
There's a mystery central to the storyline, as well. The Affair is set up a little bit like HBO's recent drama True Detective. In the present, both Nicholas and Alison are interviewed by a detective in a stark room. Their recollections of early moments spent together are hazy, fluid and sometimes a little disconnected from reality. We have no idea what Nicholas and Alison have to do with one another in the present, just as we have no idea why the police have called them in to relive moments from their pasts. It feels as if there must be something sinister lurking underneath their stories, but what?
It's tough to watch two characters embark on an affair, but so far The Affair isn't prone to judging its characters. For every over-the-line comment from a character there is a loving moment from that same character. There is a lot of life to be explored in Showtime's new drama, and the affair itself is just a long line of somethings that happened leading our two characters to a point in the future where they must sit in a cold room and answer questions. My biggest worry is that this exploration of two different viewpoints following the same events might get tedious, but for now there's enough intrigue to keep watching.
The Affair's opening episode asks more questions than it answers, but it explores a side of cognitive behavior and unreliable narratives in ways that are new and novel for TV.
Rating:
The Affair stars Dominic West, Ruth Wilson, Joshua Jackson, Maura Tierney, Victor Williams, Nicolette Robinson, Julia Goldani Telles, John Doman, Mare Winningham and Jake Richard Siciliano. You can catch new episodes on Showtime on Sunday nights at 10 p.m. ET. Additionally, you can view a version of the premiere early and for free over at Showtime's site.
Your Daily Blend of Entertainment News
Reality TV fan with a pinch of Disney fairy dust thrown in. Theme park junkie. If you've created a rom-com I've probably watched it.