Agent Carter Adds Lyndsy Fonseca In This Role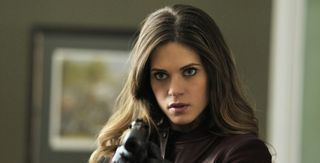 Agents of S.H.I.E.L.D. may be taking a midseason break soon, but ABC won't be sticking its fans with annoying reruns. Instead, they are airing the limited series Agent Carter to fill the void, and with only several months until its premiere, they finally have all the main characters in place. It's been announced that Lyndsy Fonseca has joined the cast as Angie Martinelli, an aspiring actress who befriends Peggy Carter in New York.
It's interesting that in a show full of spies and talented operatives, Angie is the one that will be especially important in Peggy's life. In fact, Marvel's Head of Television Jeph Loeb said in Marvel's announcement that Angie will be the friend that Peggy needs "if she's to survive the dangers ahead."While this could be taken literally, it's more likely that Angie will be the emotional anchor that Peggy needs for her everyday living.
With most of her life consisting of SSR work and going on secret missions, Peggy will need a friend that's separate from all of that. Angie can be Peggy's anchor to the norm, and conversely, Angie take comfort in this friendship as she tries to find herself in this post-war world. Then again, maybe it is literal. Maybe while they're out walking one day, Angie saves Peggy from some undercover Hydra agents. It's a far-fetched idea, but there's nothing to say that an NYC actress doesn't know how to handle herself in a fight. Okay, emotional anchor is probably the better option.
This isn't Fonseca's first venture into the world of spies. She previously played Alexandra on all four seasons of the CW series Nikita. She's also played Katie Deauxma in Kick-Ass and Kick-Ass 2, although she was one of the few people in those movies not in a colorful costume. Sitcom fans will know her best as Ted Mosby's daughter in How I Met Your Mother, although despite the show ending its run earlier this year, all of her scenes were all shot back in 2005 and 2006.
Marvel's announcement rounds out the main cast of the eight-episode miniseries, which includes Haley Atwell as Peggy, Chad Michael Murray as SSR Agent Jack Thompson, Enver Gjokaj as SSR Agent Daniel Sousa, James D'Arcy as Edwin Jarvis, and Shea Whigham as SSR Chief Roger Dooley. Dominic Cooper will also reprise his role as Howard Stark. Agent Carter will follow Peggy's work with the SSR, her missions for Stark and dealing with being a single woman in New York after losing Steve Rogers.
Atwell briefly reprised her role in the Agents of S.H.I.E.L.D. season 2 premiere alongside Neal McDonough (Dum Dum Dugan) and Kenneth Choi (Jim Morita), which not only fit within the narrative of the episode, but was also a subtle, yet effective tease for Agent Carter. Even though the main cast is full, hopefully Marvel will include the Howling Commandos in a few episodes. Many Marvel fans would like to see those rambunctious soldiers again, and they'd make great backup for one of Peggy's missions.
Agent Carter is scheduled to premiere on ABC in January,
Your Daily Blend of Entertainment News
Connoisseur of Marvel, DC, Star Wars, John Wick, MonsterVerse and Doctor Who lore. He's aware he looks like Harry Potter and Clark Kent.