Agent Carter is Definitely Bringing Back A Key Character For Season 2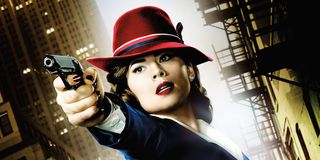 When Peggy Carter heads to Los Angeles next year during Agent Carter Season 2, she'll find herself among without familiar faces. It was announced last week that James D'Arcy and Enver Gjokaj will reprise their roles as Edwin Jarvis and Daniel Sousa, respectively. Now it's all but official that Peggy will also be reunited with one of her allies from the World War II days and the man responsible for drawing her into Season 1's events: Howard Stark.
During an interview with Den of Geek, Agent Carter lead actress Hayley Atwell mentioned that Dominic Cooper will return to play Howard Stark in Season 2, which she says will take place in 1947, a year after the events in Season 1. Said Atwell:
Atwell didn't mention whether Cooper would be part of the main cast or will be a recurring player, although given that he is playing Jesse Custer on AMC's Preacher, the latter is more likely. In addition to ABC's drama, Cooper previously played Stark in 2011's Captain America: The First Avenger and the One-Shot short film Agent Carter. He shares the role with Mad Men alum John Slattery, who played the older Howard in Iron Man 2 and this month's Ant-Man.
At the beginning of Agent Carter Season 1, several of Howard's inventions were stolen, and he was subsequently framed to make it look like he willingly gave these dangerous devices to America's enemies. Knowing he couldn't track down the people responsible alone without being caught, he recruited Peggy to follow-up on leads in the US while he went overseas to investigate on his own. He dropped in periodically to give Peggy new leads and inventions, as well answer for his secrets, namely keeping a vial of Captain America's blood.
In the Season 1 finale, Howard was kidnapped by Johann Fenhoff and brainwashed into flying a plane to detonate Midnight Oil--a chemical weapon that filled anyone who inhaled it with violent rage--over Times Square. Fortunately, Peggy was able to break through Fenhoff's hypnotism and stop Howard from dropping the weapon. Howard rewarded Peggy for her help by giving her and her friend Angie Martinelli one of his mansions, while he attempted to get Congress to give him back his weapons.
Considering that Edwin Jarvis is being brought back, it makes sense that Howard is as well, given that Edwin is the billionaire playboy's trusty butler. How Howard will fit into Season 2 remains to be seen, though as one of the nation's leading industrialists, he no doubt still has a long list of enemies, which could include the villains who will be antagonizing our titular protagonist.
Agent Carter Season 2 will premiere next year during Agents of S.H.I.E.L.D.'s midseason hiatus on ABC.
Your Daily Blend of Entertainment News
Connoisseur of Marvel, DC, Star Wars, John Wick, MonsterVerse and Doctor Who lore. He's aware he looks like Harry Potter and Clark Kent.