American Horror Story Season 6: What We Know So Far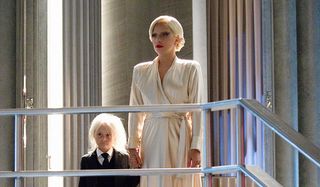 Each year, Ryan Murphy & Co. give television its most bafflingly weird and sinister hour of primetime with American Horror Story. While the seasons have become more interconnected, audiences don't always connect so well with the material, with last year's Hotel seeing its initial ratings success take a nosedive. And so a new season of the show needed a jolt of something new and something fresh. And perhaps something less... mouthless dildo-wielding monster-fications of human vices.
Here is everything that we know so far about American Horror Story Season 6, and the various bits of demented oddities it will deliver to viewers. Don't forget to keep checking back.
When Will American Horror Story Season 6 Air?
It took a while for FX to come forward and reveal American Horror Story Season 6's big premiere date. Although it didn't take a genius researcher to know that the show has debuted in October for the past five years, so that's when we expected to get the new episodes. However, recently FX shocked us by announcing that American Horror Story will premiere on September 14 at 10 p.m. ET.
What Have We Seen So Far From American Horror Story Season 6?
After waiting for what felt like years and years for FX and American Horror Story to deliver on the visual goods, we finally got a trio of teasers that were followed by a billion more teasers, which is just like normal, but in a more compressed time frame. One recent offering plays up how each of the past five seasons plays into the next one, while still not divulging what we can expect from the new season.
As far as other new teasers go that presumably also don't have anything to do with what Season 6 will cover, there's the one below, which should leave a pretty solid taste in everyone's mouths. There has also been a campy throwback teaser that resembles Creature from the Black Lagoon, a couple that make shadows and wind chimes pretty creepy, one with a weird monster walking down some railroad tracks and several more. Now while we wait for more, I'm going to walk around my house drawing question marks next to every numeral 6 I can find. Is it permanent marker or not? There's the mystery.
What Is American Horror Story Season 6 About?
UPDATE: It looks like American Horror Story is taking the reality show/docu-series route with Season 6, as the first episode was partly an episode of the faux show My Roanoke Nightmare, which ties into set photos leaked a while back. More on that here and here.
The original story is below.
It remains to be seen how fresh and new the actual content of American Horror Story Season 6 will be, but everyone involved can be commended for the new approach they're using to usher audiences into the new theme and setting. Basically, they're just letting us all out into the wild without any guiding light to lead us to the real answer.
After a handful of teasers had been released, it was revealed that all but one of the miniature teasers is a fake, and the plan is for no one to know for sure which one is right until the season actually starts. So if you've watched all of the teasers, you've seen what you can expect, unless the REAL theme is from a teaser that hasn't been released yet. Everybody's gotta be difficult.
Early rumors of a Slenderman season were reportedly debunked, though some of the oddball entities in these teasers could stand in for the Internet terror. Ryan Murphy has said in the past that this season will deal with children in some capacity, with operatic themes involved, and that the narrative will incorporate two different ideas he'd had festering for a future season. What those ideas are, we've yet to discover. There was that one teaser with all the blades and things hanging above a baby's crib, which was apparently housing some alien/monster. Is that what's happening here?
Set photos have revealed a setting that hints at a season inspired by the Lost Colony of Roanoke, though nothing official has come out just yet. And it wouldn't be the first time American Horror Story talked about that particular mystery from history. More on that here.
Could this show actually go all the way to the premiere without anything getting spoiled, in a world where Game of Thrones and The Walking Dead would kill for some secrecy? We shall see. Or not see. So far, FX's marketing goals have gone off without a hitch, though.
What Actors Will Be Returning For American Horror Story Season 6?
Everyone knows that Ryan Murphy has an ever-growing stable of actors that he likes to bring to his various projects, and American Horror Story is a primo stage for many of them to return to. Hotel was the first season for which Jessica Lange was absent, and her void was filled by Lady Gaga with a Golden Globe-winning performance. The multi-hyphenate entertainer has confirmed she will be returning for Season 6, although this year is also one in which she will be busy with several other endeavors, so there are no promises on how big her role will be. Or what it will involve.
The first celeb to reveal she'd be making her comeback next season was Angela Bassett, who slipped the announcement into an interview with Larry King. No details are known about her character(s) just yet, of course, but we have to assume that it'll be something insane, since Bassett's roles have been pretty out there over the years.
Having just joined the American Horror Story branch of Team Ryan Murphy, Cheyenne Jackson announced his return to the anthology thriller to Out Magazine. He also revealed that some of the principal photography for the show was underway in secret.
Matt Bomer, a two-season vet at this point, will definitely be coming back for Season 6. The actor made the reveal himself to Enstarz, but he claimed he didn't know what the concept was and thus couldn't share it.
Character actor Leslie Jordan was an eye-popping treat when he showed up for American Horror Story: Coven, and it was a delight to hear that he would also be returning next season, after having not appeared in the past two storylines.
Last year's turn in Hotel got Lady Gaga recognized for her acting skills, and while her music career has been dominating her time for most of 2016, she will make room for a role in some capacity for Season 6. Don't expect her to lead everything, but also don't expect anything relatively normal.
Coming off of the awards-worthy success of The People v O.J. Simpson: American Crime Story, actress Sarah Paulson likely could have landed any role she wanted on the small screen. And she wanted back in on American Horror Story. It's unclear, of course, how much she'll play into it, but we're hoping for a crossover with Marcia Clark.
Given how often actors and actresses return for parts both bit and small, with some playing characters from years past, it's more than likely we'll also get to see those who have been there since Season 1, such as Denis O'Hare and Evan Peters, who should just be playing Hotel's Mr. March in every upcoming season, because that guy was a hoot and a holler. Twisty the Clown's John Carroll Lynch returned to play the clownish serial killer John Wayne Gacy last season, so hopefully he'll get another shot at playing something related to a terrifying clown in the next installment.
Unfortunately, Jessica Lange has made it very clear that she will not revisit American Horror Story in the future, saying that era of her career is wrapped. It's a fate that's almost more horrifying than anything we've seen on the show, but we will survive, unlike so many characters.
After first hooking up with Ryan Murphy for The People vs O.J. Simpson: American Crime Story - with fabulous results - Cuba Gooding Jr. apparently thought it was a relationship that needed to continue thriving, as he told ABC News that he will reteam with the creator for Season 6. Asked about details, he could only joke "You'll see a whole lot more of Cuba Gooding Jr. on the series." This will be his first time on the show, and his biggest horror genre role to date.
Jacob Artist is another new actor set to reteam with Ryan Murphy. Artist spent the better part of two seasons as Noah's half-brother Jake Puckerman. He was as solid as can be expected on that show, and one can only assume Murphy is going to put him through the wringer in Season 6. What kind of wringer that'll be, we dunno.
What New Actors Will Be Joining American Horror Story Season 6?
While the handful of American Horror Story vets have been announced, no newcomers have gone public with their involvement. Hotel was a good season for new actors popping in and out of the story, though, so that's a good sign that we might get to see a new generation of AHS performers getting bloody. There was Max Greenfield as a doomed junkie, Naomi Campbell as a doomed hotel guest, Cheyenne Jackson as the Hotel Cortez's new owner, and other actors like Alexandra Daddario and Darren Criss also appeared in more limited spots. I dare not begin to dreamcast new actors, or I'd be here all day.
To help soothe the wounds of a lack of knowledge, here's another one of those teasers.
Where Can I Watch American Horror Story: Hotel And Previous Seasons?
At this point, American Horror Story: Hotel isn't available to stream anywhere, and the Blu-ray set likely won't be released until just before Season 6 airs in October. FX doesn't even have it on the network website anymore.
It's much easier to watch the first four seasons of AHS, thankfully. They're available on Netflix, Hulu and Amazon Prime, so at least you get to soak up some Jessica Lange before the latest season hits those streaming services, probably also around October.
Your Daily Blend of Entertainment News
Assistant Managing Editor
Nick is a Cajun Country native, and is often asked why he doesn't sound like that's the case. His love for his wife and daughters is almost equaled by his love of gasp-for-breath laughter and gasp-for-breath horror. A lifetime spent in the vicinity of a television screen led to his current dream job, as well as his knowledge of too many TV themes and ad jingles.