Angel's J. August Richards Reportedly Joins Joss Whedon's S.H.I.E.L.D.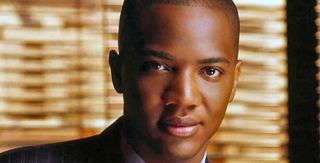 It looks like Joss Whedon has called in the big guns - or big Gunn for that matter - to join the cast of his anticipated S.H.I.E.L.D. drama. J. August Richards, who played Charles Gunn in Angel, has reportedly been cast in the Avengers-related project, which will focus on the S.H.I.E.L.D. organization. Assuming this news is true, Richards joins previously cast Ming-Na, Chloe Bennet, Elizabeth Henstridge, Iain De Caestecker and Brett Dalton in the project, not to mention Clark Gregg, who will reprise his role as the friendly S.H.I.E.L.D. agent Phil Coulson.
TVLine reported the news, making sure to add that they have yet to get confirmation from ABC that Richards is on board to play a "super top-secret role." Since learning of the pilot, Whedon fans have been left to wonder if any familiar faces from Whedon's previous projects might be involved in this pilot. But so far, Gregg's in the minority in terms of being an actor who's worked in a major role with Whedon prior to the S.H.I.E.L.D. project. And he's probably closer linked to the Marvel films, which include The Avengers, Thor and Iron Man, than he is to the Whedonverse. Of course, The Avengers provides the link between the two.
Richards has numerous credits to his name, but many of us know him best for his role as Charles Gunn, a character in the Buffy spinoff, Angel, who ran a crew of vampire hunters in Los Angeles, before eventually befriending and teaming up with Angel and his people, going on to become one of the core people on Angel's team. Hopefully this casting news turns out to be the real deal. We haven't seen Richards in a steady gig on TV since Raising the Bar, and the legal drama didn't stick around beyond its second season. Since the TNT series' cancellation, he's bounced from one guest appearance to another. Assuming this news turns out to be true, it's one more reason to hope that the pilot goes to series.
Your Daily Blend of Entertainment News
Thank you for signing up to CinemaBlend. You will receive a verification email shortly.
There was a problem. Please refresh the page and try again.