Another Shot At A Leading Role For Comedy Actor Kyle Bornheimer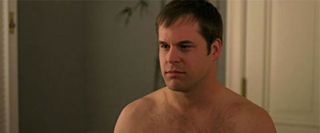 While I applaud NBC's decision to cancel Perfect Couples, I kind of feel bad for Kyle Bornheimer. The poor man has been in a slew of terrible comedies that faded as quickly as they seemed to be put together. In the past year both Perfect Couples and ABC's Romantically Challenged failed to find a niche. You probably don't even remember Bornheimer's turn as Sam Briggs in the 2008-2009 CBS effort Worst Week. All that terrible luck could change thanks to a new series.
The good news is the major networks still seem to see Bornheimer as a leading man. This time around the actor is headed back to ABC, where he is set to produce and star in a new comedy. According to THR, while plot details are still under wraps, the comedy was written by Bornheimer and his brother, Ryan, and was bought in the pitching room. I wonder if details are being kept under wraps strictly because of Bornheimer's bad karma? Either way, the only teensy detail ABC has sent out into the universe is Bornheimer will play a small town dad.
With ABC, NBC, and CBS all interested in the actor, where does other big network Fox fit in? If you can remember all the way back to March, Bornheimer was set to star on Fox's Council of Dads. That project has also been scrapped. I'm really hoping the ABC deal will be the big win for the little actor that could, but until the ABC program makes it into Season 2, I'm still considering it as if it has 'doom' written all over it.
Your Daily Blend of Entertainment News