Archer Season 4 Spoilers: Celebrity Dopplegangers, Guest Stars & So Much More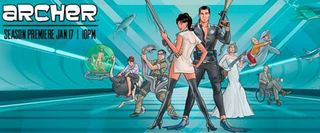 Today marks the return of television's most spectacular spy spoof, Archer. So far the secret agent whose codename is Duchess has become a pirate king, battled a vengeful cyborg, and traveled into space to wage a battle over the future of Mars. And that was all just in season three!
To kick off the show's fourth season, Archer's cast and creators set out on a four-city tour called Archer Live! (Read my review of the New York event here.) Made up of scene readings/re-enactments, the screening of sneak peeks, and various fun and games, the show was jokingly described by H. Jon Benjamin as a "hate letter to fans." But amid the t-shirts launched into the audience from a snazzy handheld cannon, and the off-the-wall questions the crowd threw back to the cast, there were plenty of details dropped about Archer's fourth season. And I'm sharing them with you. So, obviously spoilers lie ahead.
Actually, a chunk of spoilers are shared in the new season's promo poster, including one detail that will radically rattle the world of Sterling Archer. Note, the wedding dress his mother is sporting? That's right, Malory gets married! And while Jessica Walter could not speak to more Arrested Development cameos in Season 4, she was eager to tell us all about Malory's new man.
His name is Ron Cadillac, and he's the biggest Cadillac dealer in the tri-state area. The new supporting character is voiced by Ron Leibman, Walter's real-life husband who has appeared on televisions shows like The Sopranos and Friends. Walter was delighted to tell us that she and Leibman broke with Archer convention by recording some scenes together, and that Ron will be at the center of an episode titled "Midnight Ron."
Also tipped in the poster—amid some jokes from the first few eps—is the setting of the series two-part finale. If you're looking for Archer and the gang at season's end, you better check under the sea. (And if you were an early watcher of Adult Swim or an early admirer of Archer creators Matt Thompson and Adam Reed, you know where this is going.) There will be a Sealab 2021 crossover wherein the ISIS crew travels to a certain sealab and crosses paths with a crazed Captain Murphy!
But this isn't the only crossover fans will see this season. On top of more references to Reed and Thompson's blistering and bizarre Adult Swim series Frisky Dingo, there's also an episode featuring characters from H. Jon Benjamin's other currently running cartoon show, Bob's Burgers with a special "appearance" from John Roberts, who plays Bob's loving wife Linda.
Other notable guest stars this season include Timothy Olyphant and Anthony Bourdain, playing Archer's best friend Luke Troy and the celebrity chef host of Bastard Chef respectively. While the Justified star was likely snagged out of FX synergy, the latter was a casting coup courtesy of Archer's Aisha Tyler. She discovered Bourdain was an Archer fan when he was a guest on her podcast Girl on Guy.
This season will also reveal Archer's fourth greatest fear—behind are alligators, crocodiles, and brain aneurisms—is the Bermuda Triangle, a location that will also factor into the season finale along with a downed plane, a nuclear bomb and a not a little bit of treason.
Season 4 will also include the return of Archer's bionic ex-fiancée Katya, and Barry (and other Barry) is back, well sort of. Though he's still stuck in space, he isn't done messing with Archer. Gillette, still crippled from the spaceship crash at the end of season 3, will go under the knife at the hands of Krieger. Finally, in an episode called "Papal Chase," we learn that Archer's faithful but abused servant Woodhouse has a celebrity doppelganger in the pope.
Basically, there's lots of badass and totally bonkers stuff in store. So tune in tonight.
Archer Season 4 premieres Thursday, January 17 at 10 p.m. ET. (Read Jessica's review here.) Season three is now available on DVD.
Staff writer at CinemaBlend.
Your Daily Blend of Entertainment News
Thank you for signing up to CinemaBlend. You will receive a verification email shortly.
There was a problem. Please refresh the page and try again.