Arrested Development Season 4 Watch: Episode 2 - Borderline Personalities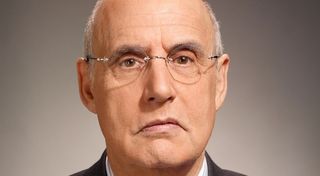 Netflix has released Season 4 of Arrested Development in its entirety and we'll be binge-watching the series' revival and sharing our reactions from each episode with you over the next couple of days. The recap below contains spoilers from Episode 2 - "Borderline Personalities." Read no further if you haven't seen the episode yet!
When Arrested Development was first in development, the part of George Sr. was not supposed to be a regular character on the series. It wasn't until Jeffrey Tambor got the part and proved how well he could mix with the rest of the cast that the Bluth patriarch became one of the main parts of the show - and one of the best parts at that. Tambor's talent and the writing staff's skill harmonized to create some of the most memorable elements of the first three seasons, from the look into the ice cream sandwiched-filled prison system, to Caged Wisdom to the twin adventures with the pot-loving Uncle/Father Oscar. So what has George Sr. been up to in the years since the series' cancellation?
Watching the second episode of the newly released fourth season, "Borderline Personalities," we learn that he's been keeping busy being up to no good –as per usual. While the finale of the last season had him sneaking onto the family's yacht with a half a million in cashier's checks and a small house in Cabo as his destination, unfortunately it didn't take long for him to once again get trapped in Lucille's web. He meets with Stan Sitwell (Ed Begley Jr.) in a last-straw attempt to save the Bluth Company, but accomplishes little more than getting in a skirmish with a man with alopecia and discovering plans for what he thinks is a 20-foot wide, five-mile-high monument to Former President George W. Bush.
After Lucille explains that what he saw was not a dedication to our nation's worst leader in history but rather blueprints for a wall to be erected between California and Mexico, George Sr. is catapulted on a path towards his latest get-rich-quick scheme: a sweat lodge for high-powered CEOs that charges $15,000 for a glass of lemonade. A plan that, naturally, exploits Oscar in the worst ways you can imagine…until the tables are turned.
There are some evident growing pains in the structure of the second episode of the fourth season, as the show eases into the "one episode per character" format. On Netflix the series gets a full 30 minutes to play with as opposed to the 22 minutes it had on broadcast television, but with so much groundwork to cover and exposition to establish the story feels rushed and is over before you really feel as though you've settled into it. Fortunately, it's an issue that can be solved in future episodes as less explanation is needed for everything and the big picture becomes realized. Thankfully there are some extremely funny moments in the episode, and one can only hope that John Slattery, Karen Maruyama and Mary Lynn Rajskub make their way back as Dr. Norman, China Garden and Heartfire.
The running gag has always been a specialty of Arrested Development, and much like the first episode of the season, "Borderline Personalities" has some great winks to the fans. The show is littered with small/one-liner references – with "I have the worst [bleeping] attorneys" getting a fun turn around, Gob's "sense of propriety" making a comeback, Lucille's foster child getting a Spanish soap makeover, and the opening line reminding us of the time that George Sr. put a hot tub in the attic of the model home – but you see the heart of the series emerge when thinking about the larger plot elements reintroduced. It's great to see George Sr. once again take on the part of a phony spiritual leader, the George W. Bush stabs are just as funny as they ever were, and the George/Oscar switcheroo is a classic.
As easy as it is to appreciate the nods and references to elements from the show's previous seasons, "Borderline Personalities" is most intriguing when it's creating plot threads to weave in future episodes. It's only the second episode but already we can see recurring motifs, scenarios and scenes that will end up stringing all of the characters' stories together. Just like in "Flight of the Phoenix" where we see that neither Michael nor George Michael have shown up at Lucille's court case, it's also revealed that George Sr. wasn't able to make it. In-flight magazines also appear to be a new thing for the writers to target, while we can also expect that George and Oscar switching personalities will have an effect on the future storyline. What will happen with Lucille 2's (Liza Minnelli) political campaign and who is her mysterious right-winger opponent Herbert Love? What the hell is going on with the ostriches? All of these elements will definitely help in keeping us watching.
The Rest of the Developments:
That's Henry Winkler's son, Max Winkler, playing young Barry Zuckerkorn in the flashback sequence. It's his first acting role since 1993's Cop & a 1/2, but he has been keeping busy in Hollywood, writing and directing the 2010 dramedy Ceremony.
Why does Tobias seem so damn happy while George and Lucille are talking with Barry?
Hal & Burton's Frozen Goat Cream now makes me question everything I know about Ben & Jerry's
The Detention Meeting Room is apparently also used as a baby changing center.
"I'm going to sit opposite you so it won't look bad."
Catch the attempted conversation by Heartfire and the bartender while George and Oscar are talking at the bar
Maca root is real and apparently a powerful aphrodisiac.
The Maritime Penal System seems to very strict about waterproof cameras – to the point where they do hose tests.
"Don't pull out."
John Beard isn't a big fan of his new co-hosts.
That's one seriously tiny horse.
The judge at Lucille's court case is sitting behind a bar.
George actually learns how to speak with Heartfire.
Community creator Dan Harmon plays the man at the front desk of George's border operation!
First Class is all about the puppies and champagne.
I'm curious about the side-effects of armadillo medicine. Looking at Norman I'm not sure I want any part of it.
Who is the "real" Father B?
Read more Arrested Development recaps here.
Your Daily Blend of Entertainment News
Assistant Managing Editor
NJ native who calls LA home and lives in a Dreamatorium. A decade-plus CinemaBlend veteran who is endlessly enthusiastic about the career he's dreamt of since seventh grade.
Your Daily Blend of Entertainment News
Thank you for signing up to CinemaBlend. You will receive a verification email shortly.
There was a problem. Please refresh the page and try again.