The Big Bang Theory Attracts Courtney Ford For A Guest Spot, Mystic Warlords Of Ka'a Hits Facebook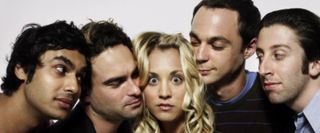 It seems that the group of guys who, let's face it, don't have all the best luck in the world with the fairer sex are getting quite an attractive guest star for the upcoming season of The Big Bang Theory. Despite Leonard's ridiculously impossible on again-off again relationship with Penny none of the other boys have really found much success with women. Overall their success could be summed up in a few words; few and far between. However, this may soon change as there's a new sexy geek coming to the cerebral CBS sitcom.
Sure, Howard found Bernadette, Sheldon has Amy Farrah Fowler and Raj might have got to a certain base with Penny (tune in tonight) but are any of them really all that promising? Leonard's busy with Raj's sister (and probably pining for Penny), Howard's true love is his mom and Sheldon abhors personal contact so that just leaves Raj, who may be this season's ladies man.
TVLine (opens in new tab) announced that Courtney Ford has been confirmed to make a guest appearance on the October 27th episode of TBBT and not only that, but she meets the boys at the crew's usual comic shopping destination, the Comic Center of Pasadena. Yes, she's a sexy-geek. So, Raj may get to know their new guest a little better than the rest of the Bangers (wow, does that sound awful), but he'll probably need a little liquid courage first. Courtney Ford is best known for her brief stints on Showtime's Dexter and HBO's True Blood.
Lastly, via THR (opens in new tab), Warner Bros. Interactive Entertainment (their gaming wing) has also launched a real world and playable 'Mystic Warlords of Ka'a' on Facebook. The fictional role playing game is the contest of choice for the four BBT boys (even Penny had a go at one point... unsuccessfully) so if you ever wanted to join in the fun, now's your chance. What are you waiting for? You don't want to be an Enchanted Bunny (you might get the Carrot of Power)?
The Big Bang Theory returns tonight, and then every Thursday on CBS at 8 p.m.
Your Daily Blend of Entertainment News
Thank you for signing up to CinemaBlend. You will receive a verification email shortly.
There was a problem. Please refresh the page and try again.