Big Brother 16 Finale And Survivor Season Premiere Date Set, Extant Finale Moved Up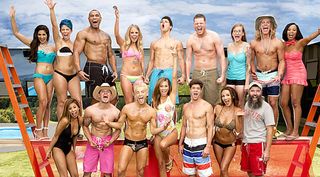 It seems way too early to start thinking about the Big Brother Season 16 finale yet. But CBS has set the date for the 90-minute season finale, which will crown one houseguest the winner. The finale of Big Brother and the premiere of Survivor will occupy a three hour block together on Wednesday, September 24, which just so happens to be the big premiere week for broadcast television.
According to CBS's announcement, Big Brother's Season 16 finale will air on Wednesday, September 24 at 9:30 p.m., immediately following the debut of Survivor, which is set to premiere at 8:00 p.m. that night. The "Blood vs. Water"-themed season of Survivor will broadcast from Sn Juan del Sur in Nicaragua, and will feature all-new contestants competing against a loved one. This scheduling arrangement means CBS's sci-fi drama Extant will wrap up on Wednesday, September 17, a week ahead of its originally scheduled finale date.
But let's talk about Big Brother, because as we said, it feels too early in the game to even think about the finale just yet, let alone try to imagine who might be sitting in the final two seats, but September 24 is less than two months away. If we do the math, there are eleven houseguests remaining in the game, which means, assuming the format of the series follows the past few seasons, there will be eight more evictions before finale night, with the Final 3 being set by September 24. There are seven Thursdays between then and now, and we know this week will be a double-eviction week. So that means there might only be one double-eviction this season. Unless they drop the Final 3 thing and evict the last houseguest the week before the finale. I'd almost prefer they do that and go back to the old format of pre-taping the jury questions, as the live questioning seems to have very little impact on how the jurors vote.
It's also worth noting the possibility that an evicted juror will get put back in the house, as was the case last year. If that happens, then there could be another double eviction between this week and the finale. Really, anything is possible -- including my math being wrong, so I encourage you to do your own counting and not rely on mine. Expect the unexpected!
As for Extant, while CBS boasts that the Halle Berry sci-fi drama is "the most-watched new series of the summer," Variety speculates that struggling ratings factored into CBS's decision to move Extant away from premiere week and wrap up the season a week ahead of schedule, where it won't face such steep opposition at other networks. That includes the return of Modern Family (ABC) and Law & Order: SVU (NBC).
Your Daily Blend of Entertainment News
Thank you for signing up to CinemaBlend. You will receive a verification email shortly.
There was a problem. Please refresh the page and try again.