Big Brother 16 Live Feed Spoilers: Who Won Part 1 Of The Final Head Of Household?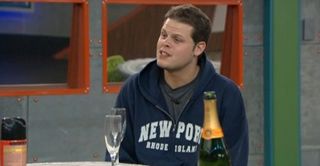 Following last night's live episode, which saw the Final Four's numbers reduced by one, the remaining three houseguests went out back to compete in the first part of the 3-part Head of Household competition. Who won? We have the answer! And we have some clips from last night's episode, one of which shows Derrick receiving the best "holla" ever, and the other shows Frankie's last attempt to stay, which wasn't nearly as positive and glittery as his exit.
First, the Live Feed spoilers. If you don't want to know who won Part 1 of Big Brother 16's final Head of Household competition, read no further!
Ok, here you go. The answer is: Cody. To no one's surprise, Cody won the endurance competition. Victoria dropped first. Derrick gave up a little while later.
Here's a look at the excellent set for the endurance competition, which had the houseguests standing on perches and hanging onto hang gliders...
Every once in a while, the wall behind them would shift and they'd be hanging forward. They were also getting sprayed with water, which couldn't have made the challenge any easier.
This may very well be my favorite Big Brother competition set ever. It kind of reminds me of Disney World's "Peter Pan's Flight" attraction, where you're in a boat suspended above scenes from the animated movie, and though you're not actually that high up, everything is built small to create the illusion. Such is the case for this Head of Household competition. Even knowing that the Houseguests weren't really up that high, it was still surreal seeing just how close to the ground they were...
I can't wait to see how it looks on TV.
In the meantime, that means Derrick has to face off against Victoria in Part 2. Judging by how poorly Victoria has performed in competitions, there's a good chance Derrick will win -- usually Part 2 has to do with the order of Heads of Households or some other memory-related challenge that's also a little bit physical -- but nothing is certain until it's done, so we'll see.
Derrick and Cody have been assuring one another that they'll take each other to the end. I'm more inclined to believe Cody than I do Derrick, but it's entirely possible that both are lying or both are telling the truth. It's really hard to know at this point.
In related news, CBS posted some clips from last night's episode. That includes the excellent segment that showed Derrick's reaction to hearing his daughter's "holla"...
Feed watchers have been hearing Derrick's "hollas" for weeks now. it's actually been a pretty funny "punishment" and one Big Brother might consider repeating in some form or another in the future. There was variation with the "hollas" from the start, and it wasn't long before the houseguests knew all of them by heart. And then they added special "hollas" recorded by the jurors, which was great. But taking it a step further by rewarding Derrick for his Head of Household win by letting him hear his daughter's voice with a special "Holla" was kind of perfect.
Less perfect was Frankie's last ditch effort to convince the guys to keep him...
If it had worked, it would've been genius, I suppose. But it relied heavily on Cody, Caleb and Derrick being so fearful of Frankie that they'd be willing to hand their game to him. In a way, Frankie sitting down and reminding these houseguests of who he is both inside and outside the game was reminiscent of the time he sat them all down to announce that he's a social media mogul and the brother of an up-and-coming pop star. That big reveal earlier this season did seem to create the diversion Frankie needed to regain his traction in the game, and it seemed to help Frankie shake off a lot of the shade he'd taken on that week for some game-related stuff. But this time around, a big speech was too little, too late. If anything, his attitude only served to annoy Cody and Caleb and probably made it even easier for them to send him packing.
Kelly joined CinemaBlend as a freelance TV news writer in 2006 and went on to serve as the site's TV Editor before moving over to other roles on the site. At present, she's an Assistant Managing Editor who spends much of her time brainstorming and editing feature content on the site.
Your Daily Blend of Entertainment News
Thank you for signing up to CinemaBlend. You will receive a verification email shortly.
There was a problem. Please refresh the page and try again.