Big Brother 16 To Premiere With A 2-Night Event, And We Have A Theory About The Theme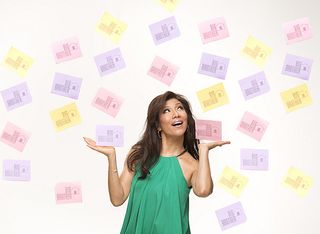 Can you feel the excitement? We're so close to the new season of Big Brother, we can practically taste it. And by "practically" we mean, we're not quite at the point where CBS can start unveiling major details about what's in store this season. That won't happen until the cast is quarantined, which won't be until much closer to the June 25 premiere. but we do have some updates about Big Brother Season 16, including an HD upgrade, the status of Big Brother: After Dark and some other planned events. And we might have a clue about the theme this year.
Those of us who make it an annual event to get way too involved in Big Brother every summer have much to look forward to. As in previous years, Big Brother will air three nights a week, and fans can subscribe to the live feeds to see what's going on between episodes. Here are the details CBS has announced for Big Brother 16.
Premiere night - The Big Brother premiere will take place over two nights, beginning Wednesday, June 25 at 8:00 p.m. and then returning Thursday, June 26 at 9:00 p.m. Will the first eviction take place that Thursday night? It's hard to know for sure. We've seen people be evicted even sooner than that in previous seasons. Here's the thing though. CBS says the first live eviction show will air the following week, Thursday, July 3. We might assume that the first eviction will take place during that episode, but they may just mean that the first eviction to happen on live TV will be July 3, meaning there someone could conceivably go during the first week. Anything is possible. Expect the unexpected!
The Live Feeds - Fans can subscribe for the live feeds, which show them what's going on in the house between episodes. This is how hardcore fans of the show watch the series, because the episodes really only show a fraction of what's really going on. A lot of the strategy and some of the key game moves can be watched on the live feeds. You can sign up for those here. In addition to the feeds, the paid subscription will get you access to live chats, live feed highlights and live stream playback. Live Feeds will be available on mobile devices.
A new Live Feed subscriber perk that will affect the house. - CBS's announcement states that "this year, BIG BROTHER Live Feeds subscribers will also have the chance to affect fun aspects of house life with exclusive Live Feed Votes throughout the season." Sounds like this is less game-related and more house related, but it all mixes together, right?
The Live Feeds won't come on until after Thursday's episode - Ok, so that's what this "two-night" premiere event really means. Usually the feeds come on right after the premiere episode, but it looks like, for some reason, we won't get the live feeds switched on until after Thursday's episode, the second episode of the season (or second "part" of the two-part premiere). Does this have something to do with a twist? Or is CBS just trying to keep feed-watchers in the dark about what's going on in the house until after the second episode airs? That's a possible indication that there will be an eviction or some other twist early on, neither of which would be all that surprising (though the nature of either could certainly be). If the feeds come on after Wednesday's episode, whatever's going on in the house will be spoiled by Thursday night.
Big Brother: After Dark - Those who don't have the live feeds can still get in on some of the action, as TVGN will be airing Big Brother: After Dark every night (11:00 PM-2:00 AM, live ET on Monday and Tuesday; 12:00 AM-2:00 AM, live ET on Wednesday, Friday, Saturday, and Sunday; and 1:00 AM-3:00 AM, live ET on Thursday).
Big Brother Live Kickoff hosted by Jeff Schroeder - Jeff's still around and this year he'll be hosting the live kickoff exclusively online an hour before the east coast on-air premiere on use 25. Jeff will talk about the new cast and the twists fans can expect from the season. Hopefully we'll know what they are by that point, but either way it'll be interesting to hear Jeff's candid commentary on what's coming up.
Big Brother All-NIghter event - Jeff Schroeder will live tweet the action that transpires for the first sixteen hours of the live feeds. That's happening the night of June 26 (after Thursday's episode).
Possible theme clue?
Finally, CBS offered two new photos of host Julie Chen, one of which can be seen above, and the other might -- might -- be a clue about the theme of the season...
Is it me, or does Julie Chen look like she's wearing pajamas? I can't really tell, especially by the shirt. It looks like a dress shirt that's also sort of pajama-ish. That and her bare feet make me think "slumber party." Factor in the planned all-nighter event, and I'm wondering if slumber party is part of the theme here. thoughts? We won't know for sure what the theme is until after the houseguests are quarantined, which should be happening soon, considering the show actually starts filming days before the premiere, and they're quarantined before that. We'll keep you posted once we have more information!