Big Brother 16 Watch: The Final Four Is Revealed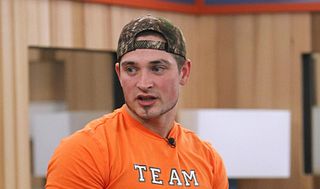 Big Brother's alternate reality TV week has come to an end, and the Rewind certainly panned out better for some houseguests than others. Had the Houseguests not pushed the button, Victoria likely would have gone home last week and who knows what would have happened from there? But the button was pushed. The game rewound. And things played out very differently this time around.
Frankie may regret being so enthusiastic about pushing the button, but let's face it, that button was getting pushed. So this isn't exactly one of the all-time worst Big Brother moves ever. But the button may haunt Frankie regardless, as he had a spot in the Final 4 up until that siren went off.
To sum up tonight's episode, Cody won the Veto. He didn't use it. Frankie was evicted by a vote of 2-0. Derrick won Head of Household, which guarantees himself a spot in Final 3.
Before we get to the meat of the episode, I want to take a moment to rant a bit about how frustrating Frankie's eviction was for me as both a feed-watcher and a viewer. Don't get me wrong, I think the guys made the right call in getting him out this week. Victoria was right in saying if they didn't, they may as well hand him the half a million dollars. He had to go. But with the live feeds down, we didn't get to see the lead-up to the episode.
How much notice did the Houseguests get that the eviction was happening? Were there any last-minute strategies discussed? Did Frankie know for sure one way or the other if he was going? Did the guys sit him down and tell him as they talked about doing? We might never know, as the episode didn't show us and the feeds were off. At best, maybe they'll talk about it on the feeds and give us some indication of how much Frankie knew about his eviction going into the taped episode.
Leading up to the Veto competition, Frankie did express some concern about being on the block, which led to a conversation with Caleb wherein Caleb admitted he put Frankie on the block because they didn't trust him. It's a good thing Cody won the Veto, for Derrick's sake. With that doubt in Frankie's mind, if he'd won the do-over of the face-morph Veto, Derrick would've gone up and Frankie might have conspired to send him out.
But Cody won the Veto with impressive speed. The other Houseguests were able to see the time-to-beat, which likely raised the pressure for everyone who went after. It certainly looked like it got to Frankie, who didn't perform nearly as well in the competition this time around. He made a good pitch at the Veto ceremony, trying to get Cody to use the Veto on him so that Derrick could go up in his place, since Derrick's never been on the block before. No one cared about that though. From every conversation I saw on the feeds, Frankie was the only one who seemed to think that was a relevant factor. And it was Frankie who seemed legitimately flabbergasted that Cody didn't use the Veto.
Frankie's eviction was heavily predicted by live feed viewers -- and it was practically confirmed earlier today during a live feed leak -- so it didn't come as a shock to us. Not even Team America could save him. And he left the house with something light and fun to say to everyone, including telling Victoria to win something, telling Derrick to take care of the fish, giving Caleb a chess piece back, and telling Cody he's had better.
Frankie left the house to loud applause from the audience. Clearly, none of those people vote in Joker's poll, as Frankie isn't exactly ranked highly among those folks. The audience's reaction to Christine reflected her standing on Joker's running Houseguest popularity poll. The same cannot be said for Frankie, who is currently holding the bottom spot there. Maybe the audience was full of Frankie fans. Or maybe this is an issue of the taped-episode audience being a different crowd from the people who come to the live episodes?
Whatever the situation, Frankie was received with cheers from the crowd, and he responded by covering himself in glitter and then engaging in a cheerful conversation with Julie as though he'd just won the game. Julie is right that he's a showman. If there are any hard feelings, Frankie wasn't sharing them. Instead, he chatted animatedly with Julie about some game stuff, last week's comp wins and revealing the truth about his sister. He used his last bit of camera time to thank everyone and receive more applause.
Back in the house, the Final 4 retreated to the back yard for the Head of Household competition. It was a Before/After. Derrick won on a tie-breaker with Cody. That ensures he has a place in the Final 3. Will he try to win the Veto or throw it? At this point, Derrick might be trying to make a few big moves to show the jury he's really in this game. We all know Derrick's been steering the Big Brother 16 ship pretty much since the beginning of the season. Proving that to the jury -- if he manages to get to the Final 2 -- is a much trickier task. Competition wins and crucial decisions that can be used to demonstrate good game-play are key.
But on the other hand, if he throws the Veto and Cody wins it, Cody can be the one to evict Caleb, leaving Derrick's hands clean. Of course, throwing it runs the risk that Caleb could win the Veto and send either Victoria or Cody out. So there are risks and decisions to be made.
Team America
For some reason, Big Brother revealed to Derrick and Cody that if a Team America player wins the game, they get an extra $50k. Why? It's not like either player needed more incentive to win. They didn't even complete half the tasks they were given. I would've rather Big Brother put the $50k on the table as a bonus for the winning player if all of the tasks were accomplished. Instead, the guys picked the tasks they wanted to complete, ignored (or in one case, phoned in) the ones they didn't want to do, and now one of them -- well, Derrick, since he's the only one left -- could get an extra $50k just for being a part of Team America, on top of the money he won for the tasks and the half million dollars. I'm just not sure what the point is.
America's Favorite Player
Voting is open (opens in new tab)! Interestingly enough, all of the houseguests (save the Final 2) are eligible to win America's Favorite Player this season. That includes non-jurors and jurors. If the mentioned Joker's poll is any indication, Donny or Zach has this locked down. But if Frankie's sister campaigns on his behalf, he could give the other players a run for that money. In fairness, Ariana Grande has every right to promote the poll to help her brother win that. She's his sister, after all! But as a fan of the show, I wish the votes were limited to people who actually watched the season, whether they're Frankie fans or fans of someone else. But there's no way to limit that, so we'll see how it goes.
Fans can vote up to 20 times a day between now and next week.
There are only a few episodes of Big Brother left for the season. Tomorrow (Wednesday) night is the live episode, which will see another houseguest evicted. Then the Final HoH competition takes place. There's an episode airing on Friday, and then the finale next Wednesday! And it looks like Big Brother will live on, as tonight's episode aired a notification that casting has begun for Big Brother 17.
Assistant Managing Editor
Kelly joined CinemaBlend as a freelance TV news writer in 2006 and went on to serve as the site's TV Editor before moving over to other roles on the site. At present, she's an Assistant Managing Editor who spends much of her time brainstorming and editing feature content on the site.
Your Daily Blend of Entertainment News
Thank you for signing up to CinemaBlend. You will receive a verification email shortly.
There was a problem. Please refresh the page and try again.