The Bridge Review: FX's New Drama Offers Enticing Clues And Plenty Of Promise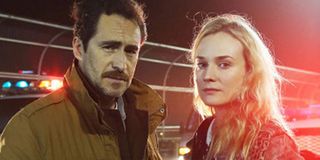 Most law enforcement dramas seek to create contrasts between the leads. They like to paint one as the white knight and another as his black counterpart, or they like to give viewers a fast-talking, street-wise type and a pencil-pushing, inside the box type. The Bridge is no different. Detective Sonya Cross (Diane Kruger) is a rigid and single-minded bloodhound who works for the El Paso Police Department. Diagnosed with Asperger's Syndrome, she relentlessly pursues suspects as aggressively as she takes notes about crime scenes and files reports. Detective Marco Ruiz is, of course, her exact opposite. He's wonderful with people and moves at the leisurely pace of a man whose seen hundreds of murders a year for as long as he can remember as a homicide detective for the Mexican state of Chihuahua.
Ordinarily, the two wouldn't have any reason to communicate, let alone work together, but after mutilated bodies are discovered on the border between the United States and Mexico, a joint task force is created to find the culprit, who seems to be some kind of sadistic serial killer with odd views on Mexican-American relations. That, in a gunshot, is the short version plot of The Bridge, but to stop there would be to cut out a very large percentage of the story, I think.
I say I think because The Bridge doesn't exactly tip its hand in its pilot episode. Instead, adapters Meredith Stiehm and Elwood Reid give us several side-plots involving a wealthy widow (Annabeth Gish) whose deceased husband was hiding plenty of secrets and a drunken reporter (Matthew Lillard) who has made more than his share of enemies. All of it is leading somewhere. The Bridge is taking viewers down a path that will eventually see Detectives Cross and Ruiz cross paths with that aforementioned serial killer, but how everything else fits in is one big fat mystery, which isn't necessarily a bad thing.
The Bridge might be a bit formulaic with its contrasting detectives trope, but it's certainly not your run of the mill procedural. In fact, it's not a procedural at all. Not a damn thing was solved during this pilot episode, and there are strong hints that indicate nothing will be solved for some time. Whether that means each hypothetical season of The Bridge will feature one bad guy/ serial killer or this current sociopath will be a series-spanning Red John-type character is unclear, but the plot seems to have been planned out in rigorous detail. In theory, that should mean we're all in for a tightly-woven series of slowly unfolding reveals, but in actuality, we should probably see a few more episodes before anyone starts heaving too much praise.
A bit slow and perhaps filled with too many Spanish interactions for some viewers' likings, there are some elements of The Bridge that might not be for everyone. A mystery that takes more than a month to solve just isn't everyone's tea, but for those willing to wait in line at the border, there's a lot here that really works. The acting is premium cable quality, plenty of budget money was spent to present as wide of a scope as possible in terms of backdrops and locations and the basic plot offers the potential to go somewhere incredibly riveting and spooky. It's not there yet, but the journey sure seems like it'll be worth taking.
The Bridge airs Wednesday nights at 10 EST on FX.
Enthusiastic about Clue, case-of-the-week mysteries, the NBA and cookies at Disney World. Less enthusiastic about the pricing structure of cable, loud noises and Tuesdays.
Your Daily Blend of Entertainment News
Thank you for signing up to CinemaBlend. You will receive a verification email shortly.
There was a problem. Please refresh the page and try again.