Brooklyn Nine-Nine Just Cast Its Hilarious New Captain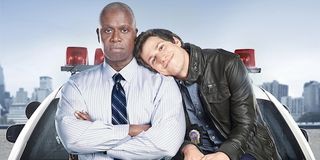 At the end of last season, fans of Fox's police precinct comedy Brooklyn Nine-Nine got an unexpected shock as the stone-faced Captain Raymond Holt, perfectly played by Andre Braugher, was ousted and replaced. We didn't see who the new captain, as the season ended on a cliffhanger, but now we know the hilarious actor who will be in command of the rowdy bunch of misfit cops: Bill Hader.
TV Line reports that when Brooklyn Nine-Nine returns to kick off season 3 this fall, when those elevator doors open, the face the detectives will see, the face of the new big man in charge, will be Bill Hader. Right now the Saturday Night Live veteran is only set for a guest-starring spot on the season 3 premiere of Brooklyn Nine-Nine, but given his comedy background, he should be one hell of an addition to what is already one of the funniest shows on network TV, even if it's only for an episode.
There's not much else known about Hader's character at the moment. We know he's a captain, obviously, but that's about all there is to tell. He'll fill the void in the precinct left by Captain Holt's departure. If you need a refresher, Holt's archenemy Madeline Wuntch (Kyra Sedgwick) forced his hand and he had to take a job behind a desk in the public relations department. He also took his assistant, Gina Linetti (Chelsea Peretti), along with him.
As far as we know, both Andre Braugher and Chelsea Peretti are still going to be on Brooklyn Nine-Nine, though in what capacity remains to be seen. It was definitely a big, bold move to have Holt leave the precinct, but there is such a great chemistry with the cast that it seems like a shame to disrupt it, especially so soon into the show's still young run. Then again, especially if Bill Hader is just here for one episode, perhaps part of the story will involve Holt getting his old job back somehow. Just imagine the shenanigans Jake Peralta (Andy Samberg) will get up to in order to make that happen.
But seeing Hader isn't the only fun surprise we have to look forward to in the Brooklyn Nine-Nine season 3 premiere. Co-showrunner Mike Schur said:
Bill Hader has had a pretty decent year thus far. He showed he can be a romantic lead in the Amy Schumer-penned, Judd Apatow-directed Trainwreck, and he lent his vocal talents to what is sure to wind up as one of the biggest movies of 2015, Pixar Animation's Inside Out, where he voices the fear inside a young girl's head.
Brooklyn Nine-Nine returns to Fox on Sunday, September 27.
Your Daily Blend of Entertainment News
Your Daily Blend of Entertainment News
Thank you for signing up to CinemaBlend. You will receive a verification email shortly.
There was a problem. Please refresh the page and try again.