Bryan Singer Wants To Reboot The Twilight Zone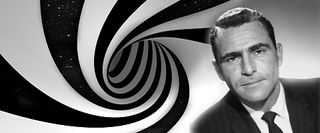 Are you ready to enter The Twilight Zone again? It could happen. Bryan Singer, director of the X-Men movies, is working on a potential reboot of the classic series which he would executive produce and possibly direct.
The original CBS series ran from 1959-1964, and there have already been several remakes, one created back in the 80s, and another short-lived series in 2002 with Forest Whitaker. The original Twilight Zone was the forerunner for shows like The Outer Limits and The X-Files, among others, that followed in its paranormal footsteps. The show is so much a part of our culture that to this day when something weird happens someone is bound to start humming the Twilight Zone theme. With all of the advances in special effects, a reboot today could even manage to be better than the original in some ways, and with a talent like Singer on board, this will be a seriously high profile project.
While Deadline says that there is no network as yet for the project, it would make sense for the show to return to its original home at CBS. On the other hand, there are some cable networks that are doing amazing work in the supernatural and paranormal genres, so there's something to be said for airing a reboot like this away from the big broadcast networks. A project like The Twilight Zone could very well result in some competition between the networks, so it will be interesting to see where (or if) it lands.
Singer recently rebooted another classic TV series, The Munsters. Mockingbird Lane wound up airing this past fall as a Halloween special. The Twilight Zone reboot is still early in development, but we'll keep you posted when more news wafts our way.
Your Daily Blend of Entertainment News
Thank you for signing up to CinemaBlend. You will receive a verification email shortly.
There was a problem. Please refresh the page and try again.