Californication Adds Marilyn Manson To Season 6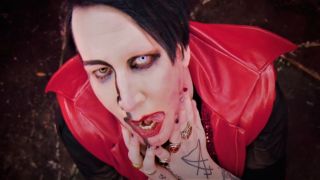 (Image credit: UMG)
Season 6 of Californication is not set to premiere until January of 2013, but cast members are currently being added left and right to the new season. 24 actress Sarah Wynter has already been added to the cast and just a couple of days ago, we noted Friends' Maggie Wheeler—otherwise known as Janice—will also be joining the cast in a recurring role. Like bad luck, casting apparently comes in threes, and now the show has added an unlikely guest star to the lineup.
Marilyn Manson is set to join the cast of the hit Showtime program in a season tinged with sex, drugs, and rock and roll. While the musician has dabbled in acting in the past, most notably in movies like Rise: Blood Hunter and The Heart is Deceitful Above All Things, he is not really known for his acting skills. Because of this, it is no surprise Manson will play himself on Californication.
According to THR, the 43-year-old musician is set to appear in the seventh episode of Season 6. The roughly half-hour episode will feature Manson when he shows up at a party thrown at Atticus Fetch's house, so we'll get to see the musician interact with characters in a party setting as well as chat with Hank. Californication has sort of been same old same old for at least a season and I'm not certain adding Manson to the cast will change that, but I am happy the show is attempting to spice things up regardless.
Your Daily Blend of Entertainment News