Christina Millian Joins ABC Family In New Series Maid In Miami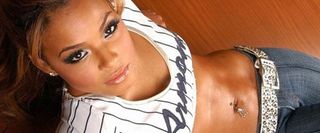 ABC Family works in almost the exact opposite way of the Disney Channel. Disney strives to build up young stars through a TV series. If the TV series goes well, then Disney might pursue a movie or two featuring the star. ABC Family, on the other hand, often gives its stars a chance to perform in ABC Family Original Movies before ever getting a TV spot. It happened for Melissa Joan Hart and Joey Lawrence, and now it's happening for Christina Millian.
In past years Millian has starred in two holiday films for the channel, Snowglobe and Christmas Cupid. The actress is now fresh off a guest appearance on CSI and has apparently proved her TV chops, because ABC Family has contacted Christina Millian for a larger role within the network. Millian is in negotiations to star in Maid in Miami, a half-hour comedy project from Stan Zimmerman and James Berg (Rita Rocks). The executive music producer on Glee, Adam Anders, who I've heard is unrelated to BSG's Samuel T. Anders, is also set to executive produce.
ABC Family has just begun to develop Maid in Miami, so the casting news is a bit of an early surprise. According to Deadline, in the comedy Millian will star as a maid who doesn't actually want to be a maid. Instead, she dreams of being a singer. The show could prove a boon for ABC family, who need a respectable program to make up for Switched at Birth. Let's hope the Glee guy has it in him.
Your Daily Blend of Entertainment News