The Comeback Photo Shows Valerie And Mickey Together Again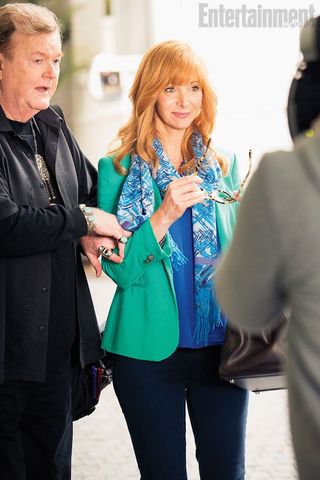 It's our first official look at The Comeback's Valerie Cherish! Standing next to her BFF/hairdresser Mickey (Robert Michael Morris), Lisa Kudrow's character looks like she might be having her picture taken. That's just a guess, based on the way she's holding her sunglasses, like she just took them off, and the arm and back that's to us in the frame. It's hard to say really, as Valerie spent so much time in front of a camera in the original series.
EW shared this first look photo, along with a couple of interesting details about what's in store for Lisa Kudrow and Michael Patrick King's underrated comedy series when it makes its grand return for a 6-episode comeback. From the sound of it, HBO gave them the option of either doing a one-shot Comeback movie (presumably a TV movie) or a limited series. They chose the latter, opting to stick with the original format of the series.
For those who haven't seen it, the original one-season show is available on HBO Go. The Comeback aired in 2005 and starred Kudrow as Valerie Cherish, a former sitcom star looking for another taste of fame and glory. She accepts the fast track back to stardom by agreeing to do a reality TV show about her life and the chance she has at a starring role in a new sitcom. The HBO series was formatted as the raw footage of Valerie's reality show, which showed off Valerie's awkwardness and extreme awareness of the cameras filming her. From what EW says, the new Comeback will have Valerie redeemed, having experienced the self-humiliation that is celebrity reality TV ahead of what would become the Real Housewives era of television. Self-humiliation is now kind of the norm for reality TV, and it sounds like Valerie has a funny spin on the situation. "Turns out I was right," Michael Patrick King says, quoting Valerie Cherish.
No specifics on what's going to happen to Valerie Cherish during this new Comeback, but King did reveal that something "will tells her." Rest assured though, it won't be all bad things. "I'm cagey enough to know that Valerie has to win, lose, and win, and win, and lose," King says. "There's an evolution here, so that it will be a vibrant ride and there will be many losses. But I do love her so much; I wouldn't trot her out again just to make people sad."
I like that he says that. As disappointing as it was that the original series only went one season, I love that it ended on a high note, and as a fan, my only concern about this new series is that it might undo some of that happy ending. I suppose it would have to in order to make it not an ending. Hopefully, this next chapter will be a good one for Valerie. At the very least, it sounds like King understands that it can't all be bad things for Valerie. And that makes sense. She has to win some hands. With that in mind, I say, bring on the cupcake suit! ("Wake up! Wake up!!!")
As for Juna and Chris, played by Malin Akerman and Kellan Lutz, from what King says, it sounds like they modeled both of their characters' career trajectories after those of Akerman and Lutz's actual careers. Both actors have gone on to find success in Hollywood since The Comeback, and from what King says, the same applies for Juna and Chris, who were hot young sitcom stars in The Comeback. Of course, in the series, Juna had a music career as well, and Chris had some emotional issues.
While the new photo gives us a look at Valerie in full costume, if you want to hear how she sounds these days, check out the video posted on The Comeback's new Twitter page.
Kelly joined CinemaBlend as a freelance TV news writer in 2006 and went on to serve as the site's TV Editor before moving over to other roles on the site. At present, she's an Assistant Managing Editor who spends much of her time brainstorming and editing feature content on the site.
Your Daily Blend of Entertainment News
Thank you for signing up to CinemaBlend. You will receive a verification email shortly.
There was a problem. Please refresh the page and try again.