Community Loses Yet Another Lead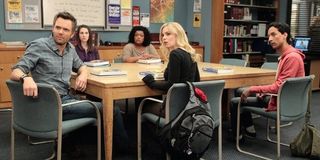 Well, this is anything but coolcoolcool. Community may be returning for its anticipated sixth season at Yahoo, but it'll be coming back without one of our favorite Greendale Human Beings. Yvette Nicole Brown, who plays Shirley, will not be returning to Community for Season 6. Brown is exiting the series due to personal reasons.
TVGuide reports that Sony Pictures TV, Dan Harmon and Chris McKenna have honored Yvette Nicole Brown's request to be released from her contract due to personal reasons. Brown explained that she needs to exit the series so that she can care for her ailing father. "The idea of being away 16 hours a day for five months, I couldn't do it." Brown said. "It was a difficult decision for me to make, but I had to choose my dad."
It's unfortunate that she has to leave the show and even more unfortunate when factoring in the circumstances.
Brown isn't the first lead to leave Community. Chevy Chase exited the comedy in 2012, and Donald Glover left partway through Season 5. Each exit left a very specifically-shaped void in the series, and the same will surely (heh) be said about the lack of Shirley in Season 6. Sure, she's occasionally judgmental, but she's proven to be firm in her beliefs and she really is the closest thing the study group has to a mom. Shirley's input provides some much-needed balance and perspective to the group. Also, she's really funny. It's hard to imagine the series without her. Unfortunately, it looks like we'll have to.
We'll miss Shirley, and Brown's presence on the series. At the same time, our thoughts go out to Brown and her family.
Community was cancelled by NBC after Season 5, but the half-hour comedy was saved in the nick of time by Yahoo, which plans to release the sixth season sometime next year. Joel McHale, Gillian Jacobs, Danny Pudi, Alison Brie, Jim Rash and Ken Jeong are expected to return.
As for Brown, while it seems the heavy schedule for Community presented a conflict for her in her personal life, she does have some other projects lined up, including a recurring role on The Odd Couple. TVGuide says the CBS sitcom offers Brown a more flexible schedule than she would have had at Community. As for her future at Greendale, Shirley's exit will be addressed on the show, and it sounds like Brown is leaving on good terms. So perhaps we'll see her drop in for a guest spot at some point down the line.
While we wait for Season 6 to debut, Yahoo has has given us this great little cheat-sheet to the first five seasons, in the form of "Yahoo Saves Community" video. Check that out after the jump...