Could Ryan Seacrest Replace Matt Lauer On The Today Show?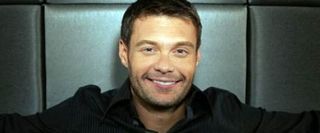 Ryan Seacrest is the ultimate jack of all trades in entertainment right now, hosting American Idol and his own radio show and various E! events and, of course, the New Year's Eve show he inherited from Dick Clark. But would he have time to add yet another show to his resume, and one filmed in New York no less? The Wall Street Journal writes that NBC wants Seacrest to take over hosting duties on the Today show if Matt Lauer leaves next year. Lauer apparently signaled earlier this year that he was thinking about leaving, and it's unclear if the Seacrest replacement idea is a serious bid or just a gambit to strengthen NBC"s negotiation power as they try to convince Lauer to stay.
Lauer has handled the male hosting duties on Today since 1997, when Bryant Gumbel left, and he's handled the show opposite Katie Couric, Meredith Vieira and now Ann Curry as co-hosts. After 14 years you couldn't blame the guy for looking for a change of pace, but at the same time the Today show gig is a pretty good one, and since they're the top morning news show and Lauer isn't known for much beyond it, it's hard to see where he could go from here that would be better. But if NBC wants to scare Lauer into staying, it's hard to imagine a better threat than hiring Seacrest, the universally liked and impossibly hard working host who seems capable of doing pretty much anything on television.
Seacrest's contract with NBC/Universal is up in 2012, so we might not have to wait much longer to see what his future at the company will be.
Staff Writer at CinemaBlend
Your Daily Blend of Entertainment News
Thank you for signing up to CinemaBlend. You will receive a verification email shortly.
There was a problem. Please refresh the page and try again.