The Daily Show's Kristen Schaal Joins ABC's Pulling Pilot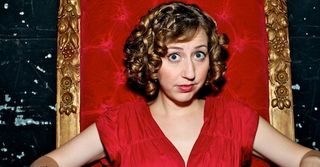 ABC has found the last of the three female leads for the comedy pilot Pulling, which is based on the British series of the same name. The Daily Show's Kristen Schaal will play the role of Louise, which was originally set to be played by Mandy Moore.
Moore dropped out of the project just a few days ago after some re-tooling of the character of Louise. Deadline says Schaal has signed on to play the role in a quick re-casting that suggests she may have been in consideration already. Pulling surrounds three women, Louise (now to be played by Schaal), Donna (June Diane Raphael) and Karen (Jenny Slate), all in their 30s and all doing their own thing while generally failing to live up to what society expects of them at their age.
Schaal is a correspondent on The Daily Show but has also made TV appearances in shows like The Heart, She Holler, 30 Rock, and Gravity Falls. She has done voice work for Bob's Burgers and Toy Story 3. On the film side she appeared in The Muppets and Dinner for Schmucks with fellow Daily Show star Steve Carell.
The replacement of Mandy Moore with Schaal is an interesting one and gives some hints as to what some of the changes to the character might entail. While both women are easy to picture as "optimistic", as Louise is described, Mandy Moore has more of a sweet girl next door feel to her, while Schaal is a little quirkier.
Your Daily Blend of Entertainment News
Thank you for signing up to CinemaBlend. You will receive a verification email shortly.
There was a problem. Please refresh the page and try again.