Demi Lovato And Miley Cyrus Both Rumored As Possibilities For Fourth X Factor Judge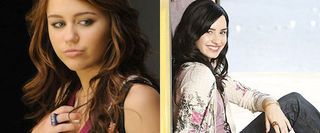 Last we heard, Britney Spears was close to a deal to serve as one of the four judge/mentors in the second season of the U.S. version of The X Factor. While Fox hasn't made any official announcement on Spears' involvement in the series, that may just be a matter of time. In the meantime, there's still one seat not yet taken (or reserved) at the judges table, and teen stars Miley Cyrus and Demi Lovato may have their eyes on it.
The Hollywood Reporter says pop star Demi Lovato is close to a deal to join The X Factor as a judge/mentor on the series. Their sources say Lovato is in final negotiations. Meanwhile, sounding a bit more tentative, Celebuzz reports that Miley Cyrus is "being eyed" as a possible fourth judge, going on to say that she's on Simon Cowell's "top-secret shortlist," which also happens to include Lovato. So their update doesn't exactly contradict THR's. It's entirely possible that both are in talks, or that Lovato is closer to grabbing the spot.
Not to diminish the professional accomplishments of Miley Cyrus or Demi Lovato, as both of them have proven to find success in their careers far sooner than most people even have careers. However, hearing these names mentioned further suggests that Cowell is aiming largely for star-power as a means of bringing in more viewers to the series. This causes me to wonder why Simon Cowell isn't looking for the next Simon Cowell. And by that, I don't mean another judge just like him, but rather, an unknown, as he was to American viewers when Idol first premiered. Someone who is entertaining and knowledgable, and unafraid to speak their mind. Sort of like Kara DioGuardi (except not Kara DioGuardi).
The point is, I'd be more interested to learn that the show was going with someone who might be less current or even lesser known, but has more to offer the series in the way of advice and criticism. Sure, dazzle goes a long way, but substance and quality go further. Optimistically, perhaps Lovato or Cyrus will bring all three, should either of them be signed on to the show.
Your Daily Blend of Entertainment News
Thank you for signing up to CinemaBlend. You will receive a verification email shortly.
There was a problem. Please refresh the page and try again.